Design In A New Light:
At an organizational level we have had to redesign many systems, procedures and structures to accommodate new realities. For example, our designer Adele Mattern could not make her usual trips to India to work with the women at the embroidery workshops and finalize the lines. Instead we changed to replace in–person meetings with more Zoom calls, WhatsApp messages and by sending tons of photographs and samples back and forth. It was a cumbersome process, but it worked more smoothly with time and experience.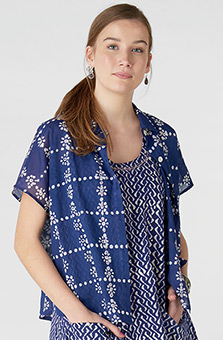 Adira Shirt - Navy/White
$56.00–$59.00
Tulsi Jacket - Natural Garnet Multi
$76.00–$79.00
CUSTOMER REVIEWS





Cute and versatile
May 30, 2021
By Barb
Very cute on its own or as a jacket over a tank top or dress.