Embracing Technology
Our development model incorporated a lot of personal interaction and group meetings. After the lockdown we had to come up with new ways to keep in touch with the artisans and their children. Technology was the answer, but there were some obstacles to overcome: limited access to smartphones, unreliable network coverage, and the need for everyone to learn (intimidating) new skills. But never underestimate the women! They took on the challenge with determination and humor, and now Google Meets, Zoom and "muting" have become household words. To read on visit our blog
Meera Jacket - Natural
$79.00–$82.00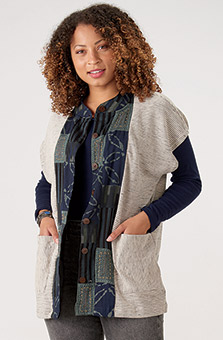 Manashi Vest - Natural/Chindi
$72.00–$75.00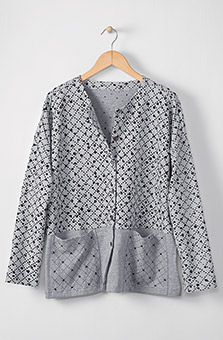 Nimita Jacket - Heather grey
$79.00–$82.00
CUSTOMER REVIEWS





Versatile Akola Teal Jacket
Mar 17, 2020
By Deborah Coleman
Comfortable, well made, fits perfectly. Will be useful for many different occasions.





Cozy and Colorful
Feb 25, 2020
By Sara Orem
The fabric in this jacket is soft and warm (but not too warm), like a sweater. I wear it with a long sleeved black T-shirt or turtleneck. It looks very fashionable over formal pants or jeans.





Akola Jacket
Feb 24, 2020
By Lori Durante
This is a beautiful, good quality jacket and it fits well, too!





lovely jacket
Feb 24, 2020
By Michele Ochsner
I wear a size 8 top and the jacket fits nicely. I love the color and pattern and it can be dressed up or down.





So comfortable
Feb 18, 2020
By Janet Whitty
I'm really happy with this beautiful jacket. It is very comfortable and can be dressed up or down. Received many compliments already.





Akola Jacket perfect for all occasions
Feb 17, 2020
By Janet Powers
I love this jacket! It fits well, looks stylish and is perfect for everything from a memorial service (high neck underneath) to a night on the town (scoop neck). I've worn it for business meetings and lunch with friends. It's my new favorite wardrobe piece!





Easy style
Feb 17, 2020
By Laurel Roberts
The material is very relaxed (stretchy) I ordered a size up and it fits loosely but looks great.





Beautiful Jacket
Jul 18, 2019
By Mary Kelly
This jacket is just right. It has a nice drape and fits true to size. The fabric is rich and mid-weight, perfect for the office.





Akola Jacket
Feb 12, 2019
By Rita Preston
I have received compliments with this jacket. The style and fit are very comfortable. It is a jacket that I will be able to wear through each season.





Akola Jacket
Feb 7, 2019
By Deborah Carter
I love the jacket! but just want to note that the button was not quite sewn in the right place for it to fall evenly when I wore it. I just took off the button and resewed another one on evenly.