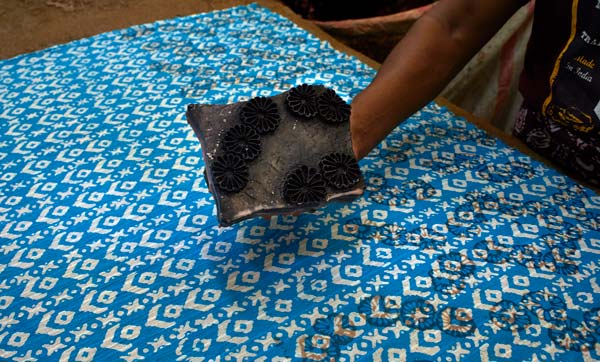 Batik Block Printing
The ancient art of Indian block printing includes distinctive regional styles. In all cases it is a labor–intensive, exacting craft. Teak wood blocks are hand carved with a variety of motifs and there is a wooden handle for the artisan to hold while stamping the cloth. The design can be dipped in dye and stamped directly. However, for Batik block printing the design is stamped with a wax resist which will block the dye when the fabric is dipped in dye. Multiple stampings and dyeing can produce complex patterns and colors. The wax is removed by melting it in very hot water, and the melted wax can be reused. Skilled artisans can combine different techniques to create uniquely beautiful fabrics.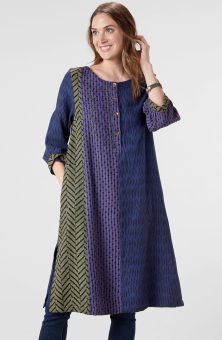 Avanti Kurta - Navy/Multi
$138.00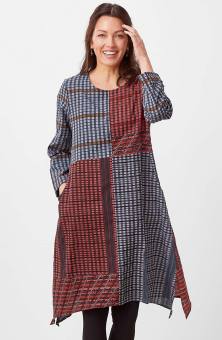 Malvika Tunic - Sumac/Multi
$128.00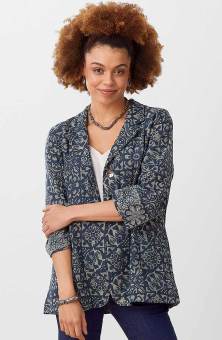 Charu Jacket - Navy/Multi
$128.00
Write a review
---
Amala tunic
Aug 26, 2023 | By Barbara
Beautifully made! Is even better than the picture. Will enjoy wearing it for years to come. Thank you.
---
Great Tunic
Sep 5, 2023 | By mk
The material feels wonderful -light but textured so that it can be worn all year. The embroidery adds something special to a casual garment. It is comfortable and becoming. I am so glad that I purchased it!
---
LOVE!
Oct 21, 2023 | By Hayden
I LOVE this tunic; it is beautiful!! This is a new look for me, and I am excited to wear it during the holiday season!!
---