Independent Thinkers
Reading a newspaper was simply not part of the artisans' lives. Many of the women cannot read or write and they have little free time. Now, thanks to the cooperatives' weekly newspaper discussion groups, the women have become enthusiastic consumers of all types of news. The articles, chosen by an artisan on a rotating basis, are read aloud and then discussed, giving the women the opportunity to learn, share, be inspired, and, sometimes, laugh. Each group keeps a record of the articles for reference.
Sikkim Jacket - Cornflower/Multi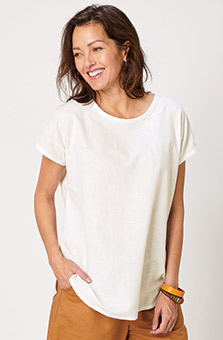 Bimala Top - Soft white
$58.00–$62.00
Amaya Pant - Natural Multi
CUSTOMER REVIEWS





Ran small
May 4, 2020
By Kalena Gregory
Nicely made but ran about a size small. Also, there is embroidery on the bottom that is not described not shows up in the catalog (apparently it is mentioned on the website).