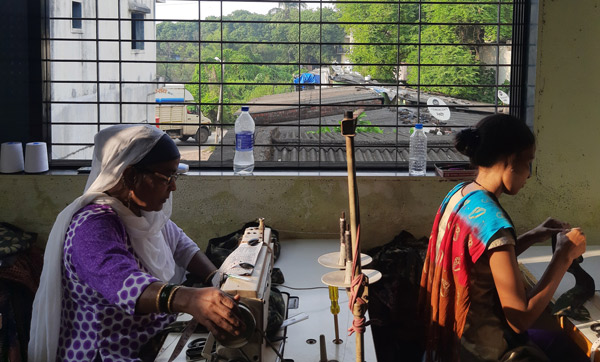 Ghar Udyog Collective Define Their Brand
Ghar Udyog is situated in Uttan, roughly 46 km from Mumbai. Located on the coast, the surrounding area is a fairly rural area and Uttan is like a large village. This group consists of 13 tailors, 14 embroidery artisans and one supervisor. It's an interesting mixture of young and older women who originate from different parts of India. While the sewing is done at Uttan, the embroidery artisans live in Bhavander, a short distance away. The geography makes it imperative that everyone can communicate clearly and frequently with their cooperative members and staff in Mumbai. They are very committed to all the social programs for personal development and social improvement. They are also good at locating useful resources in their community. They feel these aspects describe them:

1.Teamwork
2.Unity
3.Support Each Other
Mathura Tee - Crystal rose/Multi
Tivisha Top - Rose quartz
$42.00–$45.00
Eshana Tunic - Black/Natural
Write a review
---
Love it!
May 17, 2021 | By MARILYNNE BONNER
The pattern is fabulous but the top runs huge. I had to return for smallest size and still plenty of space. I usually purchase M10-12 size. Love the design, embroidered detail and color.
---
Amboli top
Feb 18, 2022 | By Gail Goodrick
Very comfortable
---
Comfy and Stylish!
Jul 5, 2022 | By Peg
This top is about the 20th top I have gotten from Marketplace of India over the years and I am never disappointed! The top is knit, which I love, and the embroidery really makes to stand out. I often get compliments on my MI tops and always tell people about the Dignity not Charity logo and the wonderful ethic of the mission. I always send them to the online shop! Keep them coming!! Especially your knits.
---