Renewing Materials, New Lives
MarketPlace's Chindi collection makes scraps stylish while training new artisans. The chindi, small fabric pieces left over from cutting garments, are recycled into new clothing, accessories and embellishments in a variety of ways. After being cut into uniform pieces, the chindi are sewn together by trainees learning to sew straight and accurate seams on the sewing machines. Look for the C sign next to products to see the creative ways the artisans have incorporated chindis.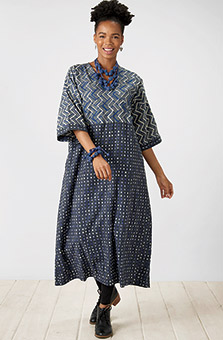 Jyothika Dress - Mineral
$92.00–$96.00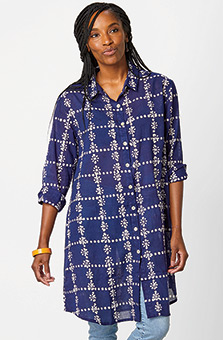 Rima Shirt - Navy/White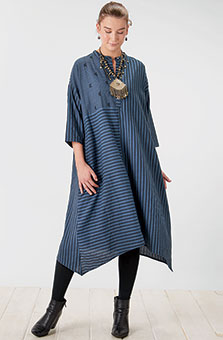 Mandya Swing Kaftan - Lake
$98.00–$106.00
CUSTOMER REVIEWS





Love this dress
Aug 29, 2021
By Lynn
This dress is well made and lovely. The fit is generous and the flow is graceful. Looks great on. As always with Marketplace India clothes, the pockets are great.





Looks dressier that the picture
Jun 9, 2020
By Starla Immak
I got this dress for my daughter's birthday, and it fits beautifully. It looks so nice that she can wear this as business attire.





Lovely Dress
Apr 30, 2020
By Patty
This is a lovely dress, so well constructed as all your products are. The shaping of this dress is excellent for a Plus size woman. The fabric is just the right weight, light enough for warm weather but not so thin that it's see-through.