Kalamkari:
The word Kalamkari is derived from a Persian word where 'kalam' means pen and 'kari' refers to craftsmanship. Initially Kalamkari fabrics were hand painted but today wooden carved blocks are used. Kalamkari textiles were a prized trading commodity throughout Asia and Europe for hundreds of years. This traditional art has survived among dedicated artisans in southern India who follow the age–old techniques and natural dye recipes of this painstaking process. The process can involve 23 steps each requiring precision and an eye for detailing.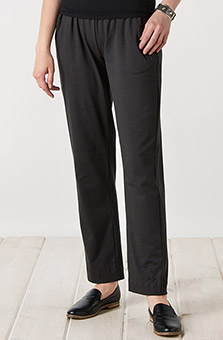 Kavya Pant - Bottle green
$62.00–$65.00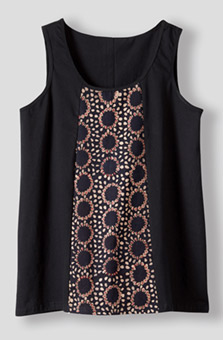 Kripa Tee - Black
$42.00–$45.00
CUSTOMER REVIEWS





With Women
Oct 16, 2021
By Arlene Mita
BEAUTIFUL FABRIC SOFT AND FULL OF LIGHT





My new favorite shirt!
Oct 13, 2021
By Julie Engelke
Beautifully made and most comfortable to wear, this has becime my new favorite shirt! I have received numerous compliments whenever I don this garment. Thank you for extrodinary craftsman/womanship.





Oops, my mistake
Aug 3, 2021
By Deb Richardson
When I seen this top online . I was excited. So, I ordered it. I received the top and I was mistaken and disappointed. Its wasn't a hit with me and I am returning it, soon.





Unique colors and style
Jul 8, 2021
By Jane
Among the more unique color combinations I own, I look forward to choosing this again and again. It's comfortable and a great fit.





Comfortable and pretty
Mar 27, 2021
By Debra M Seifert
The green is a lovely dark shade and the insert very pretty. This is a very comfortable tunic.





great top!!
Dec 6, 2020
By beth bee
scrumptious fabric and beautiful printed panel another winner from the wonderful marketplace artisans