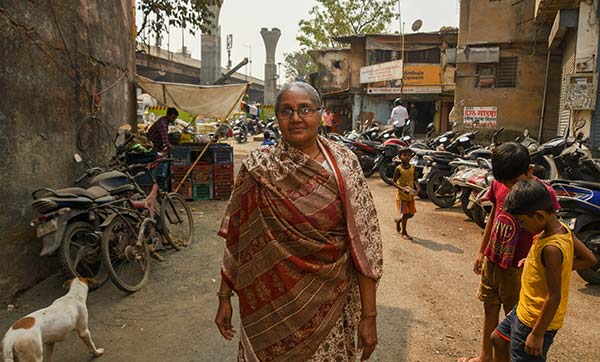 Health Insurance: A Path to Economic Security
Kunti has been part of Arpan Co–operative from its founding over 30 years ago. Her earnings have sustained the family though many difficult times. She is very proud of the independence and self–reliance she has achieved.

In 2016 MarketPlace introduced health insurance for the artisans. "When health insurance was first spoken about in our group, I had no idea what it meant or what it could do," Kunti explains.

"I am grateful that MarketPlace thought in advance of us needing medical help. I don't know how I would have managed otherwise. We try to save, but there are so many issues that arise in life that it is hard to put money away. The insurance allows us not to use up our savings for health and so this is my true savings."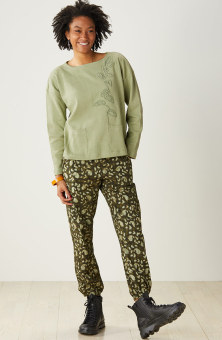 Panya Jogger - Dark olive/Multi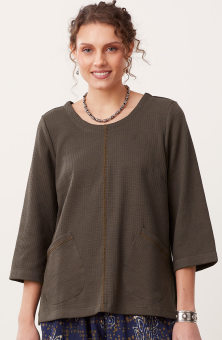 Prachi Top - Dark olive
$85.00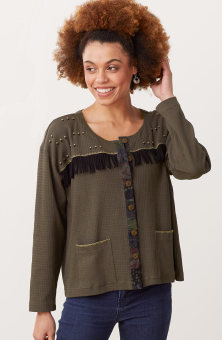 Ansiba Cardigan - Dark Olive
$82.00–$86.00
Write a review
---
More than just a shirt!
Jan 18, 2023 | By Renee Weitzner
This shirt is stunning! From the intricate embroidery on the shirt to the soft feel, this shirt is a keeper! Everything is exquisite.... Thank you.
---
Anisiba Tee in Leaf
Mar 19, 2023 | By Pam
I ordered this tee to wear with the green camera sort of pants shown in the picture. The embroidery is beautiful. I ordered a medium top because the small was no longer available. Because the medium tee runs large I dried it on hot intending to shrink it. No luck. I love the textured fabric which is a little thicker for spring wear.
---