Reaffirming The Commitment To Work:
Seeing how the women responded to all the challenges of COVID restrictions with energy and a can–do spirit showed us how impactful our empowerment programs have been. It reinforced our belief that when women are exposed to resources and new ideas, they can take charge and make changes. The women have been determined to work and have come up with very creative ways to get to their workshops and to obtain supplies even when stores were closed.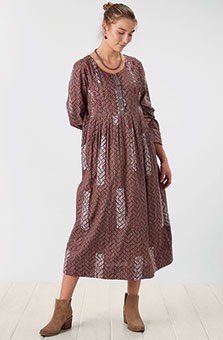 Geethali Dress - Dusty plum
$92.00–$98.00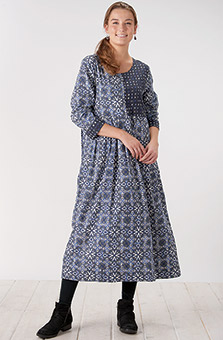 Geethali Dress - Mineral
$92.00–$98.00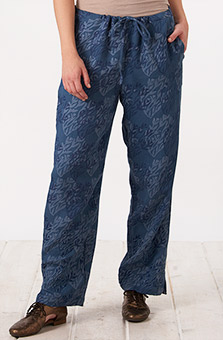 Neera Pant - Ink blue
$79.00–$84.00
CUSTOMER REVIEWS





Antara dress
Jan 12, 2022
By Susan
Looked lovely, but the Petite swam on me so have to return for a Misses size XS. I love the fabrics, don't know if they've been washed previously. Will follow washing guidelines. Gorgeous colors and I like supporting women's co-operatives.





Beautiful Dress
Dec 29, 2021
By Linda Smith
This dress is expertly crafted & the pattern is unique & beautiful. It does fit loose so I recommend ordering a size down.





Fabulous Dress
Sep 6, 2021
By Diane Walker
This dress is adorable and totally flattering! The colors are slightly more muted than they appear online and in the catalog, but the fabric is a lovely weight and the workmanship is excellent.