Reaffirming The Commitment To Work:
Seeing how the women responded to all the challenges of COVID restrictions with energy and a can–do spirit showed us how impactful our empowerment programs have been. It reinforced our belief that when women are exposed to resources and new ideas, they can take charge and make changes. The women have been determined to work and have come up with very creative ways to get to their workshops and to obtain supplies even when stores were closed.
Arohi Skirt - Rose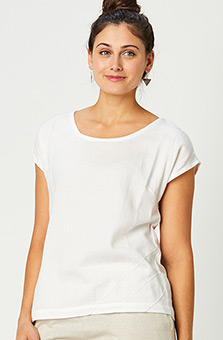 Tivisha Top - White
$42.00–$45.00
Akila Skirt - Rosewood Black
CUSTOMER REVIEWS





MsS
Apr 25, 2021
By Stephanie Silvia
Gorgeous. I'm 5'7 and will have to hem a bit. The skirt is more like a maxi, too long for wearing to school teaching art until hemmed a bit.





Lovely graceful full skirt with wide cobalt blue and black stripes
Aug 16, 2019
By Anna
I hoped this skirt would be bold, slimming, and summery and it is more than I hoped. It is basically a maxi skirt, reaching to just above my ankles. I sized up to try to maximize the length, because I like the maxi look that is popular nowadays. The fabric is smooth and substantial but lightweight and cool to wear. I'm very happy with my skirt.