Mehak Parmar Interviews Her Grandmother Sitaben Parmar
During the summer of 2021, the children of the artisans were asked talk to their grandparent to learn how things had changed. "My grandmother mentioned that in their time less importance was given to education, especially for girls. The best thing I found is that she really likes spending time with me and taking care of me. I am very close to my grandmother but I didn't know that she also really liked spending time with me."
Sanika Kurta - Black Plum
$82.00–$86.00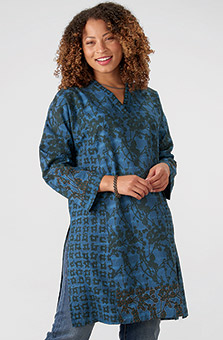 Sanika Kurta - Lake
$138.00–$144.00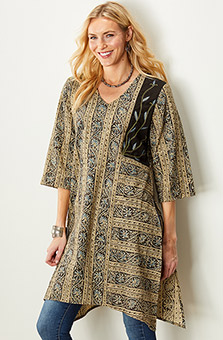 Rashi Kaftan - Olive/Blue
$84.00–$88.00
CUSTOMER REVIEWS





I LOVE THESE CLOTHES!
Sep 7, 2021
By Sandra Golbert
I own several blouses, tunics, and dresses, and I wear them constantly. I always get compliments and I hope more Women's fashions will be available soon.





Lovely garment
Nov 7, 2020
By Barbara Boone
I am very pleased with the Ashime Tunic. It is well made and I love the touches of embroidery. The style of the neck line opening is very flattering.