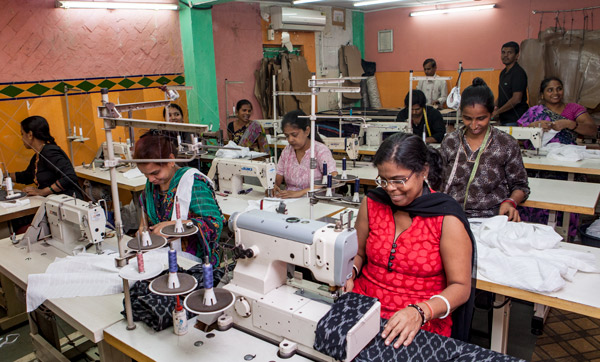 Nirmaan Cooperative Define Their Brand
Nirmaan is one of the oldest and largest groups, consisting of 12 tailors, 20 embroidery artisans, one cutter and two supervisors. Some of the artisans have actually been there for 30 years, and they have seen much growth. When clashes arise in the group, these elders often can intervene with wise suggestions to defuse the situation. It is a lively group, but everyone has the same goal. Whenever a change is considered, they hash it out before coming to a consensus. They love learning new things and are always eager to participate in social programs and events. Nirmaan chose these four aspects to describe their identity:

1.Unity
2.Hard Work
3.Quality
4.Communication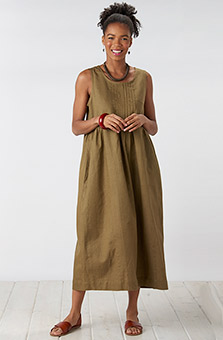 Ragini Dress - Curry leaf
$98.00–$102.00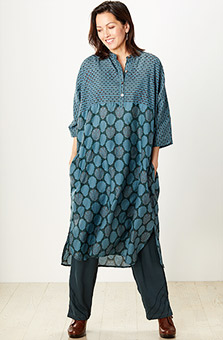 Salima Dress - Cypress
$132.00–$138.00
Shifa Tank - Bright teal
Write a review
---
Cool, casual, pretty summer dress
Mar 31, 2021 | By Diana Appelbaum
Cool, casual, pretty summer dress, very flattering to the slightly overweight. But the thing to really love about this and ALL Marketplace dresses is that the fabric washes beautifully. Unlike like cottons fabrics sold by some labels I could name, these fabrics wear well, best of all - you can machine wash then hang them damp (smoothing a bit with your hand when when they're on the hanger,) and wear WITHOUT ironing.
---
Pretty but runs small
Apr 5, 2021 | By Janet Bussey
Garments run at least one size small. Sleeves are especially tight and since material has not "give" it is important that sizing be accurate. It was also tight across chest. I wear 18W but this 2X does not fit. Had to return.
---
Asmita teal dress
May 30, 2021 | By Barbara Kaplan
I like the dress and it is well made.
---
Lovely dress
Jan 30, 2022 | By Ann
Perfect fit& great color, style is very flattering. More like this please!
---