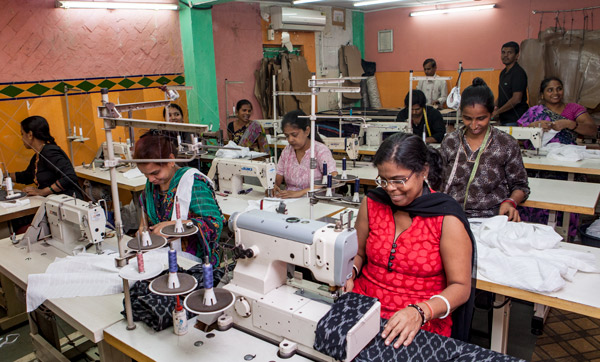 Nirmaan Cooperative Define Their Brand
Nirmaan is one of the oldest and largest groups, consisting of 12 tailors, 20 embroidery artisans, one cutter and two supervisors. Some of the artisans have actually been there for 30 years, and they have seen much growth. When clashes arise in the group, these elders often can intervene with wise suggestions to defuse the situation. It is a lively group, but everyone has the same goal. Whenever a change is considered, they hash it out before coming to a consensus. They love learning new things and are always eager to participate in social programs and events. Nirmaan chose these four aspects to describe their identity:

1.Unity
2.Hard Work
3.Quality
4.Communication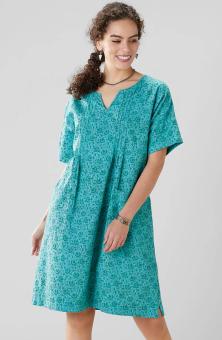 Snehal Dress - Mediterranean blue
$108.00–$112.00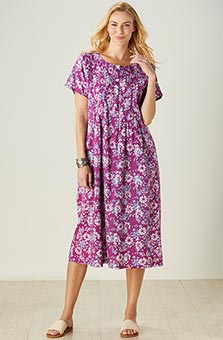 Kiranya Dress - Dark orchid
$118.00–$124.00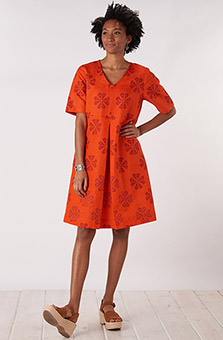 Asmita Dress - Nasturtium
$89.00–$92.00
Write a review
---
Too short but still lovely
May 11, 2022 | By Sandy S
Fabulous color and lovely detailing- but I'm 5-11 tall and this dress is too short for me.
---
So pretty
Jun 20, 2022 | By Rochelle Gatlin
This is a very pretty, well-made dress, with a lovely pattern and flattering neckline.
---
Thank you for the sleeves
Jul 13, 2022 | By Joy Green
Those of us with "batwings" who do NOT wear sleeveless clothing (even on the hottest summer days) really appreciate this sleeve length! And the cute print and delicate color are what I fell in love with immediately. The fabric is a little stiffer than I would like, but I'm sure it will soften over washings.
---