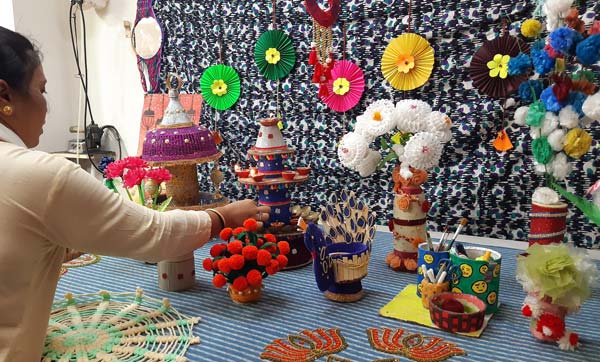 Make From Waste
The women in the Social Action Program decided to find a more eco–friendly way to celebrate festivals. Typically Indian community celebrations produce decorations that are wasteful and bad for the environment, such as figures made of plaster of Paris and toxic paints. The artisans felt that they could make change happen on a personal scale by using recycled and leftover materials. In a friendly competition the women have turned leftover bits of cloth, paper, wax – whatever they find when they clean out their homes for the holiday – into wall hangings, vases, lamps and more.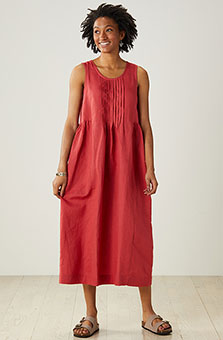 Ragini Dress - Sunset red
$98.00–$102.00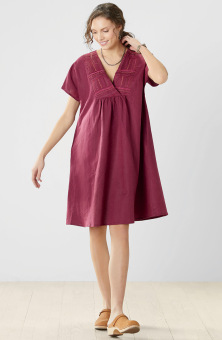 Namita Dress - Radicchio
$112.00–$116.00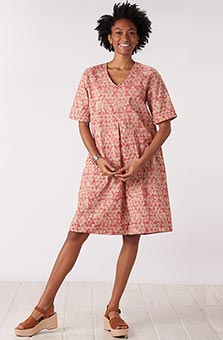 Asmita Organic Dress - Sunwashed red
$79.00–$82.00
Write a review
---
Happy Dress
Nov 15, 2022 | By Carolyn Massicott
This dress is so comfortable, and the color cut and pattern are very soothing and nice to wear. When I washed it as directed it came out perfectly.
---
Great dress!
Mar 25, 2023 | By Ann Lockwood
Love this dress! Also have in turquoise. Looks elegant with jewelry & heels or casual with sandals or leggings. I hope you continue this style in more colors & fabric choices. Please tell the co-op how much love this dress!!! The embroidery is so tasteful & elegant. I have been purchasing from Marketplace for about 15 years now, still wearing the outfits I bought then. Proud to wear such lovely clothing!
---