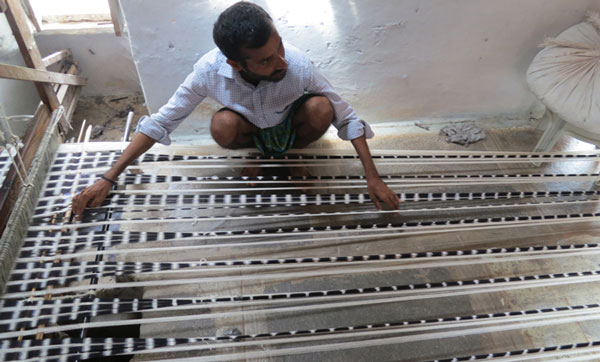 Woven Wizardry
Ikat is an extremely tricky process which produces a unique fabric. Most other fabrics are woven and then dyed, but in ikat the threads are dyed before being woven into cloth. Threads are bundled, tied with a dye–resistant material, and then dyed. The process can be repeated for more colors and complexity. For single ikat only the warp threads undergo this treatment, and the weft are left natural or dyed a solid color. In double ikat both warp and weft threads are bundled and dyed. The goal is to have a planned design come together in the woven piece. If successful, ikat produces designs with a characteristic feathery edge. This look is so prized it is often copied on machine–printed cloth, but there is no substitute for the real thing.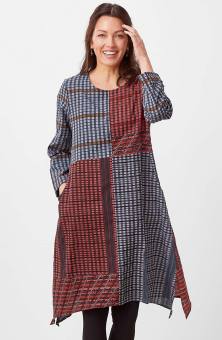 Malvika Tunic - Sumac/Multi
$128.00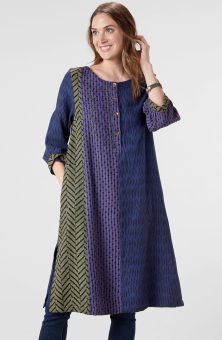 Avanti Kurta - Navy/Multi
$138.00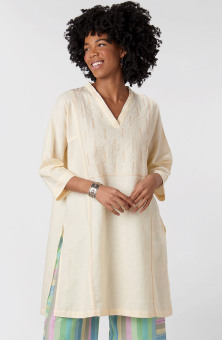 Sanika Kurta - Buttermilk
$108.00–$112.00
Write a review
---
My favorite
Sep 28, 2021 | By Candace
Fabric is much nicer, a twill, Ikat dyed and has pockets. Better dyed. Not so muddy. Pretty pricey. I purchase from your website to help support women.
---
Pretty & feminine
Oct 7, 2021 | By Thia
I love how happy this makes me feel. I appreciate the the soft cotton & pretty vibrant colors. Follow the instructions to wash 1st with salt water. It keeps the color & washed away the npleasant smell when it first arrived. I wear with skinny jeans & low boots or black or navy tights & a fun bag. I sized down from my usual & it had a nice flow & keeps the line more classic than Boho.
---