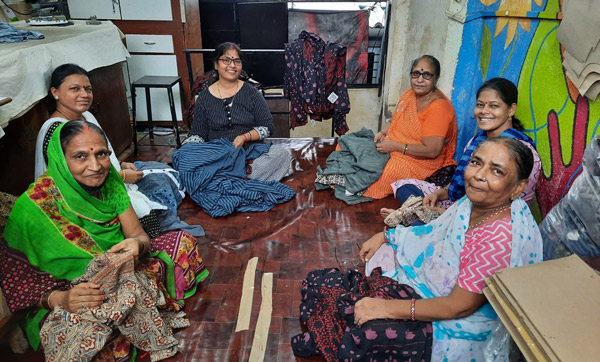 WARE Collective Define Their Brand
WARE (Women Artisans' Rehabilitation Enterprise) was established in 1995 and includes 6 tailors, 20 embroidery artisans, one cutter and two supervisors. They quickly showed their determination to succeed. While they started out in their founder's own home, they soon moved on to first renting a space and then buying their own workshop using savings and loans from the members themselves. The tight–knit group make decisions as a group, celebrate everyone's birthday and are quick to help fellow members. They chose these aspects to sum up their identity:

1.Responsibilities
2.Unity
3.Motivate Everyone For Their Skills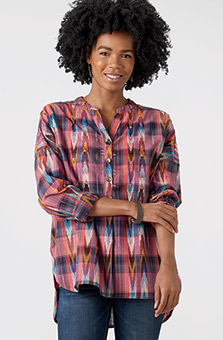 Manipur Tunic - Dusty plum/Multi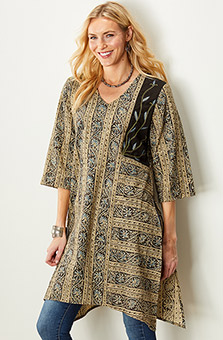 Rashi Kaftan - Olive/Blue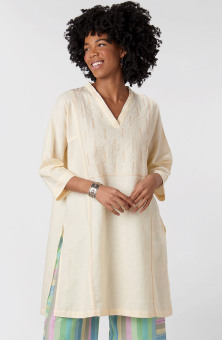 Sanika Kurta - Buttermilk
$108.00–$112.00
Write a review
---
My favorite
Sep 28, 2021 | By Candace
Fabric is much nicer, a twill, Ikat dyed and has pockets. Better dyed. Not so muddy. Pretty pricey. I purchase from your website to help support women.
---
Pretty & feminine
Oct 7, 2021 | By Thia
I love how happy this makes me feel. I appreciate the the soft cotton & pretty vibrant colors. Follow the instructions to wash 1st with salt water. It keeps the color & washed away the npleasant smell when it first arrived. I wear with skinny jeans & low boots or black or navy tights & a fun bag. I sized down from my usual & it had a nice flow & keeps the line more classic than Boho.
---