Sacrificing for Education
The artisans place a high priority on educating their children, which comes with a price tag. Even free schools require funds for books, exams and uniforms. Many of the artisans have opted to pay for private English-medium schools, a growing choice in India. Public schools are often poor-quality and use the local language, but English-speakers are given preference for jobs. Standardized tests based on rote learning are crucial in this super-competitive system, requiring the help of paid tutors.
Vibha Organic Tunic - Tomato
$108.00–$112.00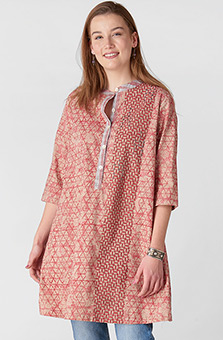 Suveera Organic Tunic - Sunwashed red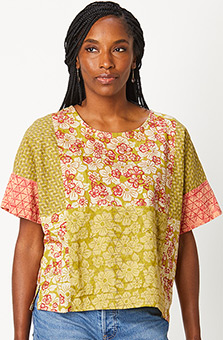 Jiya Organic Top - Spring green/Multi
$79.00–$82.00
CUSTOMER REVIEWS





Versatile Garment for Living
Nov 9, 2021
By Margaret
The Kurtta is a perfect travel garment and fills many uses: robe, beach & pool coverup, outdoor concert dress, and comfortable traveling dress. Unfortunately, the soft culotte under garments were not available. Please make those a staple in your collection in White, natural & black.





Nice tunic!
Jun 11, 2021
By Katrina H Avery
I'm very pleased with my new soft-orange tunic (with a bit of brown embroidery) -- it's gotten compliments whenever I've worn it, which with audience response like that has been quite often!