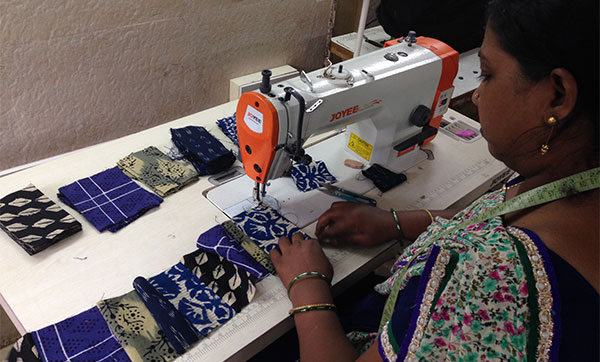 Renewing Materials, New Lives
MarketPlace's Chindi collection makes scraps stylish while training new artisans. The chindi, small fabric pieces left over from cutting garments, are recycled into new clothing, accessories and embellishments in a variety of ways. After being cut into uniform pieces, the chindi are sewn together by trainees learning to sew straight and accurate seams on the sewing machines. Look for the C sign next to products to see the creative ways the artisans have incorporated chindis.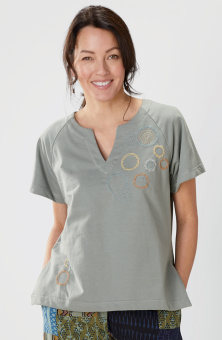 Jaipur Organic Raglan Tee - Eucalyptus
$72.00–$76.00
Tivisha Top - Soft white
$62.00–$65.00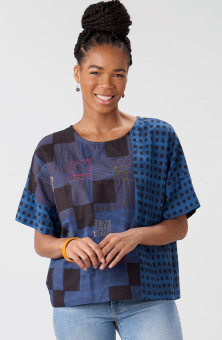 Shalini Top - Lapis/Chindi
$82.00–$85.00
Write a review
---
Banjara patchwork pants
Mar 29, 2023 | By Andrea
Love these pants! Lined, great quality workwomanship!
---
Sharon
Mar 29, 2023 | By Sharon
Loved the colors and the soft fabrics and four good size pockets excellent quality
---
Great pants
Mar 30, 2023 | By Frieda Martin
They go with everything. It can go dressy or sports very easily.
---
Beautiful pants
Apr 3, 2023 | By Susan Henthorne
They are greener than I expected but that's fine. They are well made and --surprise surprise--fully lined (in green). I love them!
---
Beautiful pants
Apr 6, 2023 | By Vicki P
I am delighted with the quality of the cotton material, it's superb construction, embroidery, and fabulous batik printing. Colors are rich but not too bright and will go with many different topchoices. The pants are completely lined which produces a perfect weight to drape nicely. Kudos to Yasmin and Shanno. The instructions for washing and caring for them is helpful. I will wear and enjoy these pants for years.
---
Attention-Getting Pants!!!
May 18, 2023 | By Joanne Artz
As soon as I saw these pants in the catalog, I knew I had to have them. They speak to my sense of color and fun in the way I dress. They're extremely well-made, lined, and the right choice for summer wear. I'm short (5' 1") so the "capri" length is actually full length on me. Shorter customers will want to take that into consideration. Wearing them makes me feel like I'm right back in the late 60s/early 70s- lots of good memories! Thank you for designing these!
---
Perfectly Fun Pant
Oct 16, 2023 | By Tim Hannon
I loved the mix of teals and blues, fits perfectly and is fun. Hope you will make these in different colorways too.
---
Perfectly Fun Pant
Oct 16, 2023 | By Nancy
Loved the teal/blue/etc colorway, and hope you will make more colorways. Wonderful for northwest weather. Great fit.
---
Beautiful Banjara Pants
Nov 3, 2023 | By Nancy
These are beautiful and fit just right. I hope you will do this in various in different colorways also. I would buy a pair for every day of the week!
---