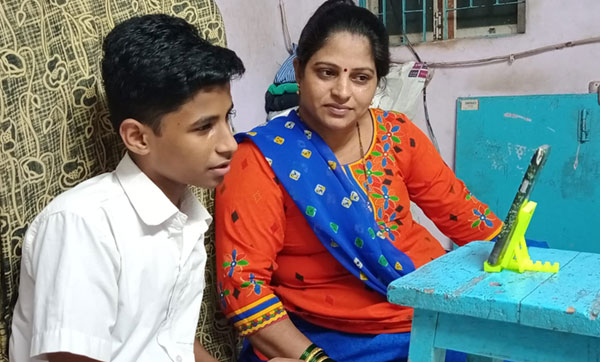 Parental Support And Strength
While the artisans´ children have had access to educational support through the Armaan Club, there are few resources for the other kids in the community. Education for Life offers programs to all children in our Santracruz neighborhood. The programs were enthusiastically welcomed and supported. When in-person classes were replaced with activities that could be conducted over cell phones, the families also participated to help make it work. Parents took messages, older siblings supervised lessons, and the more technically proficient advised others.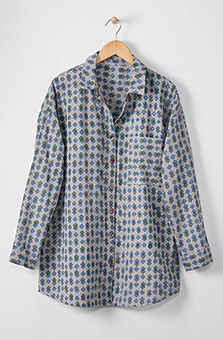 Samara Shirt - Cloud/Multi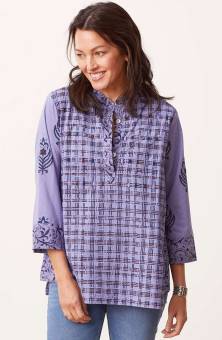 Ritika Organic Tunic - Light periwinkle/Multi
$118.00–$122.00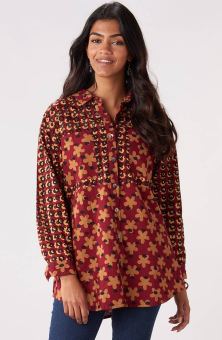 Rima Work Shirt - Pomegranate/Multi
Write a review
---
Runs small
Nov 3, 2021 | By Liz Ginno
I can't figure out which styles run small and which run big. This runs small - even though the size 3x is way too big. The fabric style and colors are great, just wish I could wear it.
---
As Advertised...
Feb 12, 2022 | By Beth McGilvray
This is a good color for me, and I like wearing cotton. The washing instructions suggest line-drying instead of using a dryer; since I do this anyway, I found that I didn't need to iron it -- although, it does wrinkle during the day. Sizing with these Indian styles tends to be on the big side, so consider buying a size smaller. I got a Petit Small, and it was on the roomy side even though I weigh 145.
---
Very Good Work-womenship!
Jun 27, 2022 | By Susan Kepner
The work-womenship is excellent! However I was disappointed that the tunic fabric was so light-weight. Since it was first seen during the fall-winter, I thought that it would be heavier. The description of "dark Aqua" is not actually as I thought; it is what I would call light aqua.
---