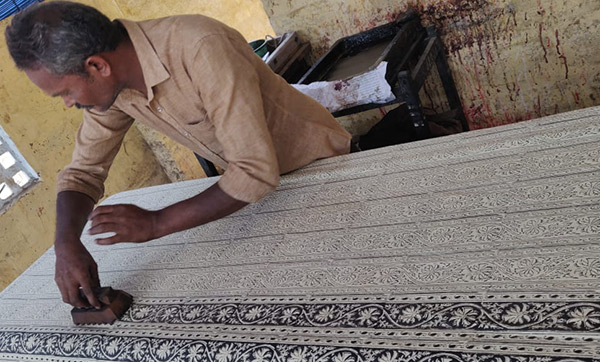 Kalamkari:
The word Kalamkari is derived from a Persian word where 'kalam' means pen and 'kari' refers to craftsmanship. Initially Kalamkari fabrics were hand painted but today wooden carved blocks are used. Kalamkari textiles were a prized trading commodity throughout Asia and Europe for hundreds of years. This traditional art has survived among dedicated artisans in southern India who follow the age–old techniques and natural dye recipes of this painstaking process. The process can involve 23 steps each requiring precision and an eye for detailing.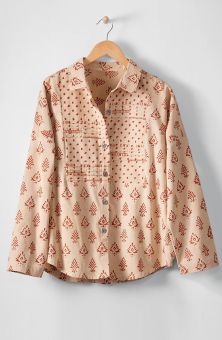 Maithree Big Shirt - Natural/Pepper
$78.00–$82.00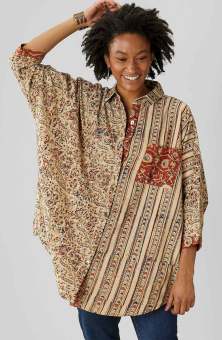 Mandvi Shirt - Natural/Indigo
$108.00–$112.00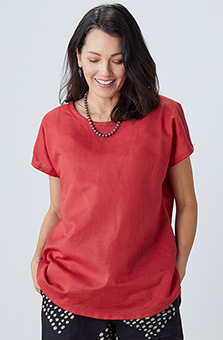 Bimala Top - Sunset red
$62.00–$65.00
Write a review
---
Glad I ordered it
Nov 20, 2021 | By Fran
This top is lovely. I wanted it for months but it took me a while to be able to order it due to a limited budget. The colors go together harmoniously and will go well with my jewelry collection. It also fits well and is comfortable.
---
True to size
Jan 17, 2022 | By Claudia
I really love this shirt. It is true to size (I am a size 14 so I got a L). It fits. It will be great for summer.
---
Beautiful top
Feb 13, 2022 | By Pamela L Cortelyou
This is a gorgeous top. I really like the embroidery at the neck. It fits very well and will be a welcome light airy top when warmer weather is here.
---