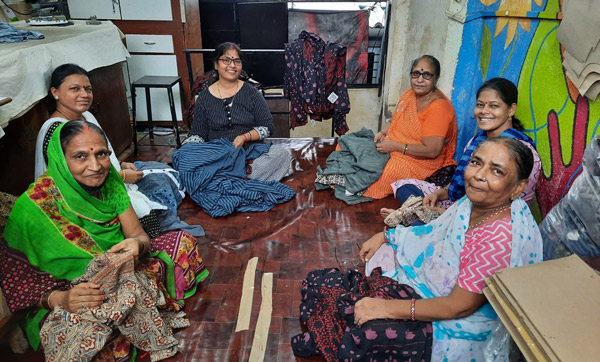 WARE Collective Define Their Brand
WARE (Women Artisans' Rehabilitation Enterprise) was established in 1995 and includes 6 tailors, 20 embroidery artisans, one cutter and two supervisors. They quickly showed their determination to succeed. While they started out in their founder's own home, they soon moved on to first renting a space and then buying their own workshop using savings and loans from the members themselves. The tight–knit group make decisions as a group, celebrate everyone's birthday and are quick to help fellow members. They chose these aspects to sum up their identity:

1.Responsibilities
2.Unity
3.Motivate Everyone For Their Skills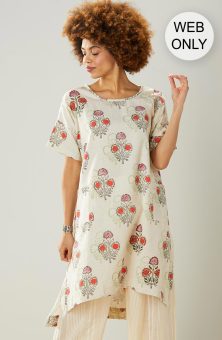 Bhadra Tunic - Natural/Multi
$78.00–$82.00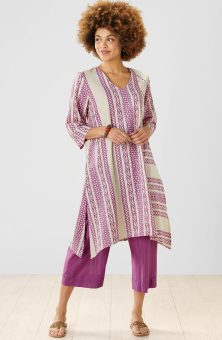 Rashi Kaftan - Wood violet/Natural
$98.00–$104.00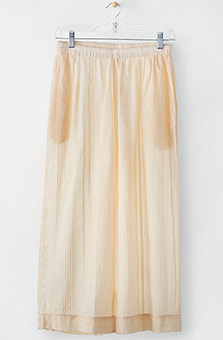 Voile Culottes - Natural
$52.00–$56.00
Write a review
---
Beautiful boho
Apr 4, 2022 | By JL
I just love this dress. The style, workmanship and pattern are gorgeous. It fits perfectly!
---
Light and Breezy
May 4, 2022 | By Barbara Sherman
This dress works perfectly over leggings or by itself. I love the way it drapes and flows. The pockets are great for holding a few tissues or whatever one needs. I am 5'ft 3 inches tall and this dress is the perfect length for me.
---
Beauty is in the details
Jul 13, 2022 | By Joy Green
I got so many compliments the first time I wore this! The intricate detailing in the pintucks just speaks of quality and care. What I appreciated the most is that I did not have to wear a slip underneath. This light colorway is not at all sheer. And pockets! All dresses should have pockets.
---