A Pandemic Complicates Everything
When the All-India lockdown was declared in March, 2020, it immediately complicated how the artisan groups could get hold of needed supplies. The base fabric for printing came from larger mills, and that started to trickle in. But then the challenge was buying buttons, thread and embroidery yarn. Normally this involves a trip to one of Mumbai's specialized local markets. Lockdown rules kept these shops closed. The cooperative managers, however, had the shopkeepers' cell numbers and were able to arrange a literal backdoor deal!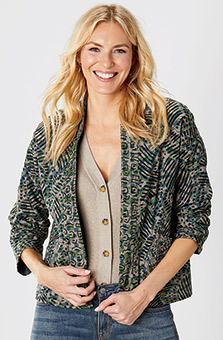 Reversible Savini Jacket - Mushroom Multi/Lake
$98.00–$102.00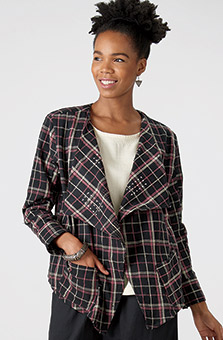 Recycled Yarn Manju Jacket - Black
$128.00–$132.00
Akila Skirt - Rosewood Black
CUSTOMER REVIEWS





Great jacket
Mar 3, 2021
By Mary Hubbard
This jacket is nice looking and lightweight. I am short and it is a great length for me. I look forward to traveling with this jacket over a black or tan tshirt.