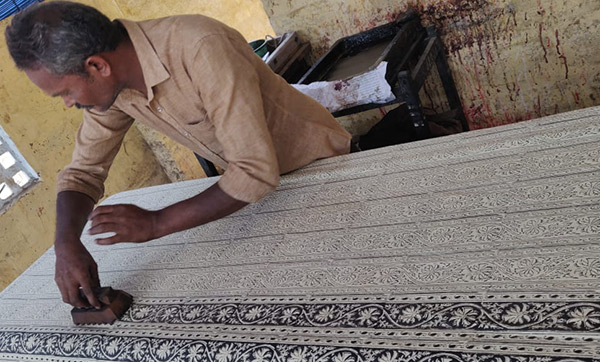 Kalamkari:
The word Kalamkari is derived from a Persian word where 'kalam' means pen and 'kari' refers to craftsmanship. Initially Kalamkari fabrics were hand painted but today wooden carved blocks are used. Kalamkari textiles were a prized trading commodity throughout Asia and Europe for hundreds of years. This traditional art has survived among dedicated artisans in southern India who follow the age–old techniques and natural dye recipes of this painstaking process. The process can involve 23 steps each requiring precision and an eye for detailing.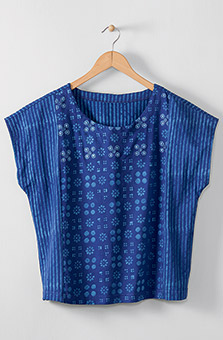 Koshi Top - Lapis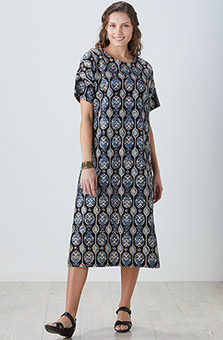 Vishala Shift Dress - Black/Multi
$98.00–$102.00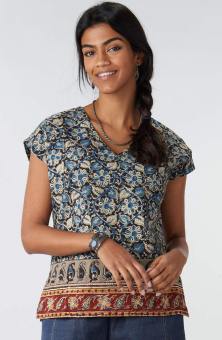 Siraj Top - Black/Multi
$68.00–$72.00
Write a review
---
Light and Comfy
May 9, 2022 | By Sandra Kessler
Love this top. Happen to be wearing it right now! Great quality and style.
---
Jacket or Top Your Choice
May 9, 2022 | By Sandra Kessler
A great and versatile piece to wear open as a short sleeved jacket or buttoned up as a stand alone top, Soft fabric. Beautifully made.
---
Beautiful Top
May 31, 2022 | By Nina LeSaout
This top is so lovely and so well-made. I have purchased several items from Marketplace and I am never disappointed in the quality. I will continue to give them my business ESPECIALLY since I trust their efforts to do good.
---
Charita Top
Jun 2, 2022 | By Rebecca
True to size, and a beautiful mixed print. Love this shirt!
---
Very Pretty and Comfortable
Jun 4, 2022 | By Pam
Love this top. All the prints are pretty and go well together. The embroidery is lovely. The top is very comfortable and fits well. I look forward to wearing it often.
---
Easy summer shirt
Jun 20, 2022 | By Linda
This shirt is consistent with Market Place design and quality. It's loose for a warm summer day with lovely colors.
---
charita top
Jul 27, 2022 | By ann battle
i love your items. i very much enjoy wearing them in our hot summer weather. quality is excellent/sewing is excellent. i'm a happy shopper!
---
wonderful summer top
Sep 24, 2023 | By bee
love the combination of block print fabrics and the loose fit. i appreciate its comfort and beauty and thank the artisans fir another fine artful garment
---