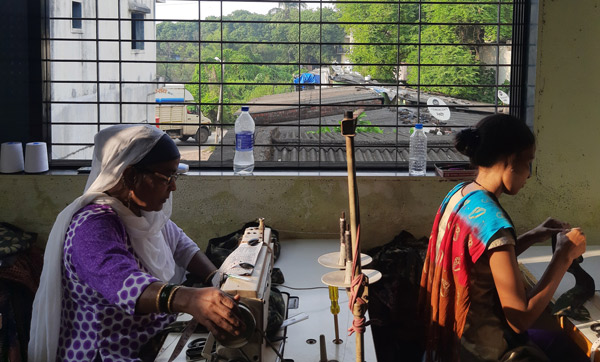 Ghar Udyog Collective Define Their Brand
Ghar Udyog is situated in Uttan, roughly 46 km from Mumbai. Located on the coast, the surrounding area is a fairly rural area and Uttan is like a large village. This group consists of 13 tailors, 14 embroidery artisans and one supervisor. It's an interesting mixture of young and older women who originate from different parts of India. While the sewing is done at Uttan, the embroidery artisans live in Bhavander, a short distance away. The geography makes it imperative that everyone can communicate clearly and frequently with their cooperative members and staff in Mumbai. They are very committed to all the social programs for personal development and social improvement. They are also good at locating useful resources in their community. They feel these aspects describe them:

1.Teamwork
2.Unity
3.Support Each Other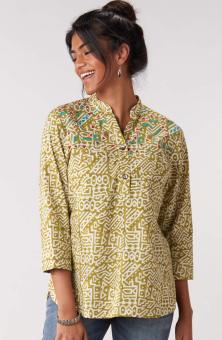 Chinam Shirt - Celery/Powder
$92.00–$95.00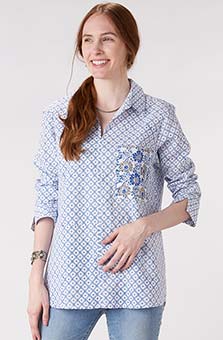 Renuka Organic Tunic - White/Lapis
Write a review
---
My new favorite top
Sep 13, 2021 | By Susan
I love this top. Comfortable and good looking. It's lightweight but has longer sleeves - perfect for fall. Just the right length.
---
Different from online and catalogue pix
Jan 5, 2022 | By Janet Goldner
The actual color was brown with tan dots. Not red. Not what I had in mind. I returned it.
---
Great Design
Jul 12, 2022 | By Vicki Rogers
My selections from Marketplace of India are always the favorite additions to my wardrobe! The Chinam shirt is a great color, style and design!
---
Market Place clothing
Oct 24, 2022 | By Kay Stone
As always, I am pleased with the clothes I purchase from Market Place India. Always good quality and workmanship !
---