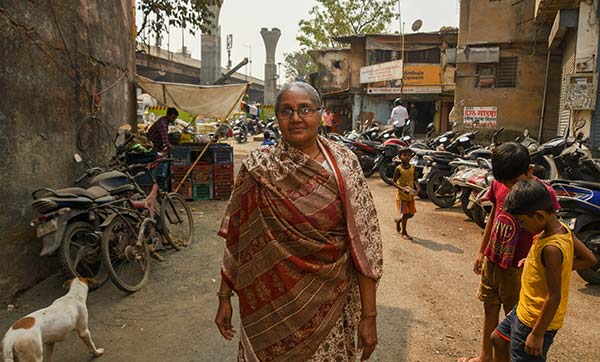 Health Insurance: A Path to Economic Security
Kunti has been part of Arpan Co–operative from its founding over 30 years ago. Her earnings have sustained the family though many difficult times. She is very proud of the independence and self–reliance she has achieved.

In 2016 MarketPlace introduced health insurance for the artisans. "When health insurance was first spoken about in our group, I had no idea what it meant or what it could do," Kunti explains.

"I am grateful that MarketPlace thought in advance of us needing medical help. I don't know how I would have managed otherwise. We try to save, but there are so many issues that arise in life that it is hard to put money away. The insurance allows us not to use up our savings for health and so this is my true savings."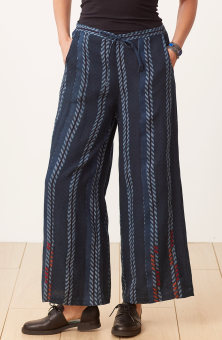 Sangli Pant - Patina
$108.00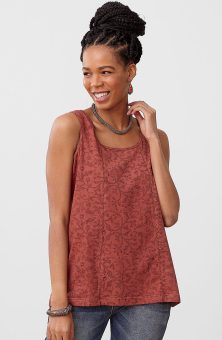 Kripa Tee - Sandalwood
$48.00
Write a review
---
Very nice!
Oct 22, 2023 | By Anne
After waiting a long time for this piece to ship from backorder, I was initially disappointed with the color. It is much darker than the salmon color depicted on the web site. However, the darker tone is perfect for fall, which it is now. I wore the dress with leggings to a concert and was very happy with it. The cotton is a nice weight and can certainly be used here in Alabama with warm under pieces during cooler weather, as well as in the spring. Also, very, very happy that sizing came in petite!
---
Beautiful color and so versatile
Nov 15, 2023 | By Margo
I love this tunic . . the cotton knit fabric is soft and comfy and drapes well . . beautiful color and designs . . very versatile as a tunic or fun dress . . many thanks to the talented designer!
---