Mehak Parmar Interviews Her Grandmother Sitaben Parmar
During the summer of 2021, the children of the artisans were asked talk to their grandparent to learn how things had changed. "My grandmother mentioned that in their time less importance was given to education, especially for girls. The best thing I found is that she really likes spending time with me and taking care of me. I am very close to my grandmother but I didn't know that she also really liked spending time with me."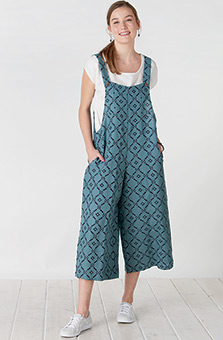 Deepti Overalls - Agate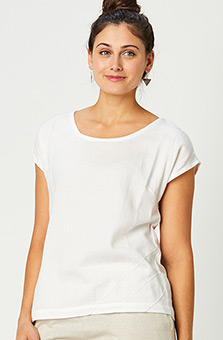 Tivisha Top - White
$42.00–$45.00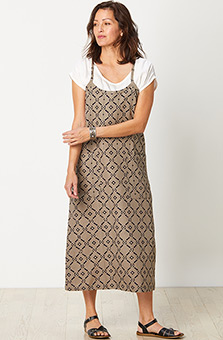 Meena Jumper - Rye
CUSTOMER REVIEWS





Totally delighted!
Apr 25, 2021
By Stephanie H.
I refer to my new Deepti Overalls as my "New Uniform" as I have worn them almost every day since their (earlier than anticipated!) arrival. I wear a size 8-10 in pants but a 6-8 on the top; so I double checked the actual garment measurements so thoughtfully provided on the website; and am so glad I did - the size Small is a great fit. I'm 5' 5" and the length is flattering. I am also short-waisted, so in spite of the 2 button settings provided for the straps, it was necessary to move 1 set of buttons - but an easy peasey task even for a non-seamstress such as myself. The fabric is light, the construction is good - and I never fail to receive compliments whenever they are worn. (My neighbor now wants a pair, too!)





love this!
Apr 5, 2021
By Mary Elyn Bahlert
I love this overall! The fabric is great, I love the look, and I am always happy to support the workers of Marketplace India. I hope you are making the world better for these women, who work so hard to bring these clothes to us.





Wow!
Mar 30, 2021
By Pat
I ordered this after a fail from another site which I returned promptly. This arrived yesterday, and I was amazed when I tried it on. It is so nice - great fabric and quality workmanship. And the fit is so flattering. The waist fits without being tight or uncomfortable. It flares nicely and is so light. This will be on repeat this summer and for travel. So great! Off to find another item to purchase.





Black jumpsuit
Jun 18, 2019
By Janice Jacobs
I am very pleased with the item. Seem to be well made, and the rapid delivery was unexpected and a nice surprise. I am hoping the fabric holds up to wear. It seems a little lightweight, and I know I will be wearing them often!!!





Happy
Jun 7, 2019
By Patricia Woolf
This linen-cotton jumpsuit is great for me and my sensitive skin and back. Wish it came in more colors. Only minor problem is I need another button to adjust the straps to a better length. But, I love it. I am not tall and needed a woman's size (your sizes run small for American women, I think), which makes it longer on me, which is simply great! Fun.