Earning Financial Independence
The artisans' discussion meetings have dealt with many subjects, from real life issues to more philosophical topics. When the subject has been Independence, the talks touch on both: fairness and practical applications. For Nanda Devi, Independence has meant that she has been able to earn and take care of her children, seeing them settle into productive and satisfying lives. She does not want her health issues to interfere: "I have been earning all my life and want to continue having my financial independence."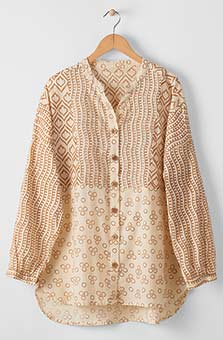 Manipur Shirt - Buttermilk
$94.00–$98.00
Divya Top - Cornflower/Multi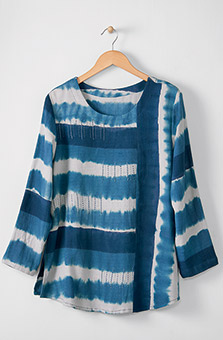 Divya Top - Bright navy
$78.00–$82.00
Write a review
---
Beautiful and comfortable
Oct 12, 2020 | By Sandra Strawn
Fits nicely and has enough room to be comfortable yet doesn't look like a "sack".... Love the contrasting arm fabric.
---
Best divya top yet!
Apr 22, 2021 | By Carol Henderson
I have several of these "divya" tops, and they're all great -- loose enough to be comfortable, fitted enough to look good. This one is by far my favorite, and it gets compliments everywhere I go. Kudos to the designer, and to the person who did the embroidery too!!!
---
A delightful and versatile top
Sep 25, 2021 | By Tamara Constantyn
I loved the look of this top--sort of a chic harlequin design--and have found that it is just as pleasant in person. It's a moderate tunic cut, so very comfortable, with a drape that is flattering but not gauzy; it maintains its form. It looks fabulous with medium blue jeans and sneakers and a skirt and heels alike. I love that the size fits: The sleeves and shoulders and hem are all in proportion to one another, unlike some ready-made garments. Wonderful quality!
---