Children are the future
The Armaan Club takes change into the next generation. The artisans, many of whom were taken out of school as children, place a high priority on education for their sons and daughters. The Club was formed at their instigation and continues to evolve with their input. Programs include counseling, mentoring and career guidance. They focus not only on improved academic performance but also teach life skills through recreational activities.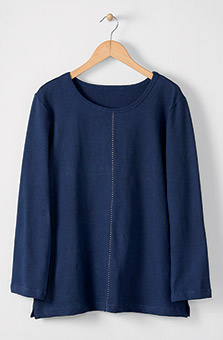 Jaanya Tee - Bright navy
$69.00–$72.00
Neera Organic Pant - Jade
$84.00–$88.00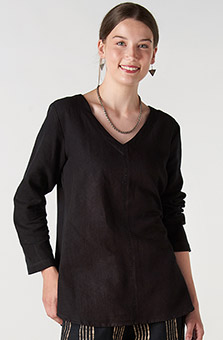 V-neck Divya Top - Black
$62.00–$66.00
CUSTOMER REVIEWS





I LOVE This Sophisticated Tunic in Bottle Green
Sep 8, 2021
By Jeanne
The styling makes this tunic so much more than just a knit top. The Bottle Green color adds to its cool sophistication and blends with a multitude of colors. Normally I take a 2W, but I had to go down two sizes to a L which fits perfectly. Check the garment measurements if you're unsure of what size to get.





Lovely Color and Knit, but Runs HUGE
Jul 6, 2021
By Jeanne
I'm reordering in a 1X. The 2X which often fits well or snugly was enormous in the bust and sleeves. I should have taken the advise and ordered one size smaller. I love the color, and the fabric which stays wrinkle free in most circumstances. I like the V opening at the sweep, very flattering.





Stylish, Comfortable
Oct 1, 2020
By Maureen
The Farida tunic is lightweight, well made, and it hangs nicely; it's roomy enough that I can wear a tee-shirt underneath for extra warmth. It works well with the Kavya pants, which I also purchased in bottle green. Speaking of which, I wish "bottle green" were more green; it comes closer to black.