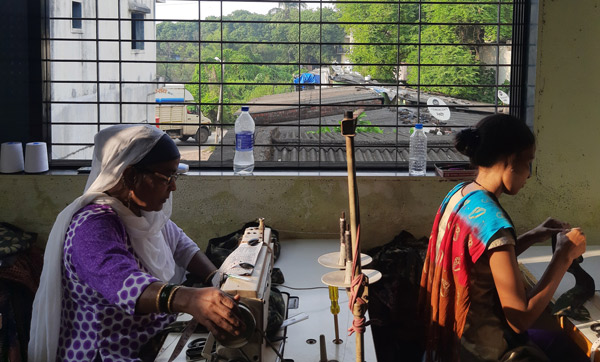 Ghar Udyog Collective Define Their Brand
Ghar Udyog is situated in Uttan, roughly 46 km from Mumbai. Located on the coast, the surrounding area is a fairly rural area and Uttan is like a large village. This group consists of 13 tailors, 14 embroidery artisans and one supervisor. It's an interesting mixture of young and older women who originate from different parts of India. While the sewing is done at Uttan, the embroidery artisans live in Bhavander, a short distance away. The geography makes it imperative that everyone can communicate clearly and frequently with their cooperative members and staff in Mumbai. They are very committed to all the social programs for personal development and social improvement. They are also good at locating useful resources in their community. They feel these aspects describe them:

1.Teamwork
2.Unity
3.Support Each Other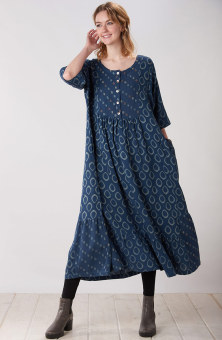 Zamania Dress - Dark pond
$128.00–$134.00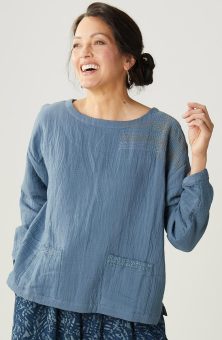 Parisa Top - Pond
$92.00–$96.00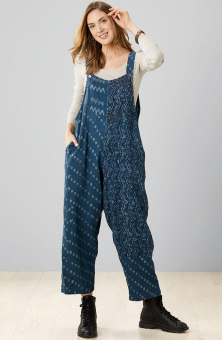 Brinda Overalls - Dark pond
$118.00–$122.00
Write a review
---
Love them!
Sep 5, 2022 | By Denise Soler
Reminds me of being in the country side in Japan. I am 5'4" with a large belly so I have to get them in the largest size. Therefore there a bit long on me, but that's easy to fix.
---
Field pants
Oct 12, 2022 | By Maya Manymoons
Yes i like them alit! Fabric is soft and the indigo colors are exactly what I wanted
The embroudery is lovely
I've had this pattern years ago and enjoyed it
I was needing a looser pr of pants to add to my daiky wesr of tunics and leggings
---
Field Pant - Dark Pond
Dec 3, 2022 | By Melanie R Felker
These pants were delivered within about a week or two. I was very surprised.
And the pants are beautiful! They fit great and are so very comfortable! I love the design and fit. The material feals like it will last, not wear away quickly. I want to buy more like it!!
---
Wonderful and comfortable outfit
Dec 26, 2022 | By Marion Gertrud Heyn
These field pants are the sixth in my closet--they are my uniform. I get lots of good comments on all of them. This last pair came with the Anupa top which goes beautifully with them: the colors match but the patterns contrast. A fun look and really well made. I will be wearing them for years to come,
---