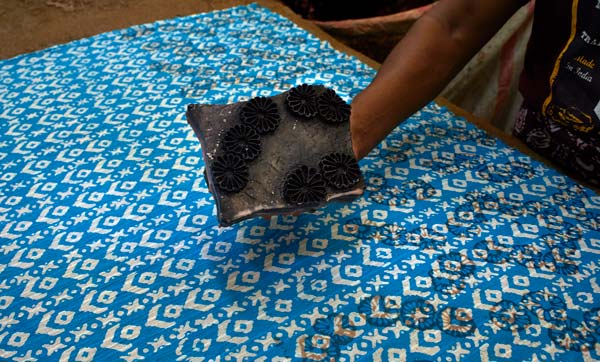 Batik Block Printing
The ancient art of Indian block printing includes distinctive regional styles. In all cases it is a labor–intensive, exacting craft. Teak wood blocks are hand carved with a variety of motifs and there is a wooden handle for the artisan to hold while stamping the cloth. The design can be dipped in dye and stamped directly. However, for Batik block printing the design is stamped with a wax resist which will block the dye when the fabric is dipped in dye. Multiple stampings and dyeing can produce complex patterns and colors. The wax is removed by melting it in very hot water, and the melted wax can be reused. Skilled artisans can combine different techniques to create uniquely beautiful fabrics.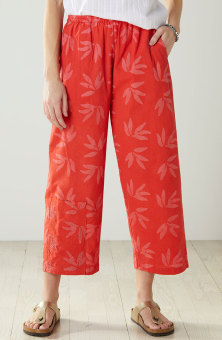 Kesari Pant - Punch
$72.00–$76.00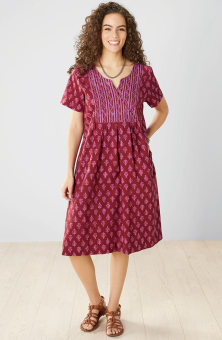 Nalika Dress - Wood violet/Multi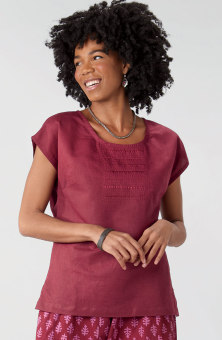 Tivisha Top - Radicchio
$62.00–$65.00
Write a review
---
As beautiful on person as in the catalog
Apr 7, 2023 | By Karen Gleeson
As expected, these pants are beautiful and comfortable. I've had many of these pants in various patterns. The combination of paisley and fleur-de-lis pattern in these pants was particularly pretty, so I bought two (as I usually do -- so I have "one to save for later") I have to also add that the photography in the catalogs has gotten consistently more true to color in the recent past, so the deep red in the photo is what arrived. I only bought one item as I have a closetful of beautiful MarketPlace clothes, so unless I give some away, I am more economical in buying new, as I live in Maine now where the summers are pretty short (so opportunities to wear light cottons are minimal). Thank you again for beautiful clothing.
---
Nice but too big
Apr 16, 2023 | By Patricia Moen
Love these pants but much too big for me. I know they're supposed to be generous but size medium was too large.
---