Anshu Gupta Interviews His Grandmother Subhaga Gupta
During the summer of 2021, the children of the artisans were asked talk to their grandparent to learn how things had changed. "There were very limited resources when my grandmother was growing up. Both she and my grandfather would have to sometimes walk miles to buy particular items. You didn't get everything everywhere. But she shared that even though resources were limited, they were happy and life was simple. My grandmother always encourages me to understand importance of education and teaches me the difference between what is right and wrong."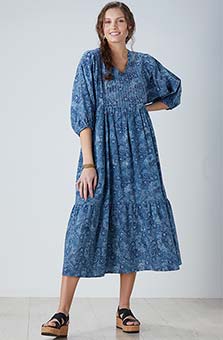 Zahara Dress - Blue
$118.00–$122.00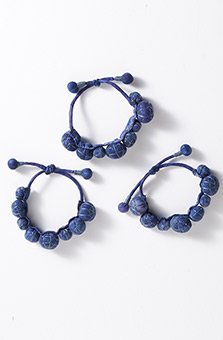 Chindi Bracelet - Indigo
$19.00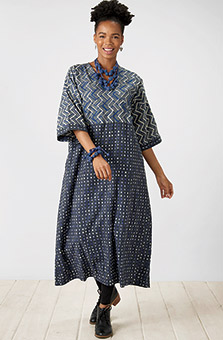 Jyothika Dress - Mineral
$92.00–$96.00
Write a review
---
Lovely dress
Sep 6, 2021 | By Sylvia Cassil
I've bought many tops and jackets from MarketPlace, but I think this is my first dress. I'm very happy with it. It's just as pretty as the photo, and was easy to wash. I really like the color and pattern. I expect to use this dress a lot during the warm days of September and October, and again next spring.


---
Charming
Sep 6, 2021 | By Noreen Greeno
Interesting fabric and style make this a charming dress.
---
So special
Sep 6, 2021 | By Mary McGowan
This is my new favorite! Length and width is great. Love the patterns and embroidery. A real winner in my collection of 10+ kaftans from martekplaceindia.com
---
Very NIce Dress
Nov 11, 2021 | By Julie Swan
This is a beautiful dress and I pair it with the scarf shown in the picture which I had purchased a couple of months ago. The picture is accurate as to the fabric color and pattern. A couple of suggestions on the dress: I would like to have the embroidery stand out a little more and duplicated on the sleeve cuffs. Also, I would have preferred it not to be quite so full from the gathers.
---
Dede
Nov 13, 2021 | By Dede Prince
I have purchased two Geehali dresses and was very satisfied! I am 5'3" and have broad hips. The dress accommodates this figure issue in a really flattering way. I have long been in love with Indian printed fabrics. The embroidery is the icing on the cake. The colors are beautiful. I did not need to take it to the alteration shop. I have ordered Jackets and blouses from you that were less generous around the hip area, so these dresses were a joy. I will order them in other colors as they show up!
---
Fun
Feb 14, 2022 | By Diane
This dress is fun to wear, and receives a lot of compliments.
---
Beautiful blues!
Mar 14, 2022 | By Kit Jones
I love dresses that use coordinating print fabrics! This dress is very lovely and very comfortable to wear.
---
Beautiful!
May 27, 2022 | By Mary O'Callaghan
This is a beautiful dress. Simple, stylish. It washes well. my only problem with it was the S size was sold out and I had to settle for the M and now have to face remaking it. I keep checking the website in hope the S will come back into stock. I would be happy with two.
---