Kalamkari:
The word Kalamkari is derived from a Persian word where 'kalam' means pen and 'kari' refers to craftsmanship. Initially Kalamkari fabrics were hand painted but today wooden carved blocks are used. Kalamkari textiles were a prized trading commodity throughout Asia and Europe for hundreds of years. This traditional art has survived among dedicated artisans in southern India who follow the age–old techniques and natural dye recipes of this painstaking process. The process can involve 23 steps each requiring precision and an eye for detailing.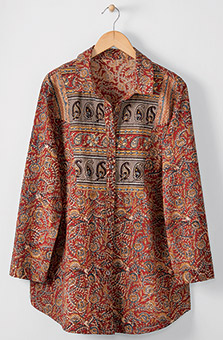 Namrita Top - Red natural dye/Multi
$75.00–$79.00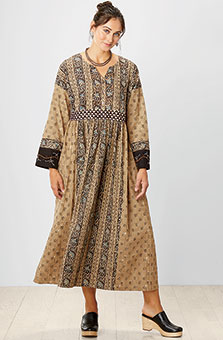 Manali Dress - Olive/Black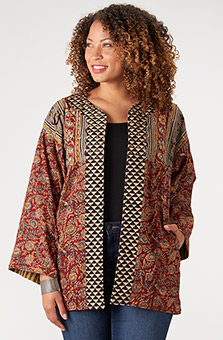 Reversible Trishna Jacket - Red natural dye/Brass
$138.00–$144.00
Write a review
---
Beautiful dress
Sep 7, 2021 | By Cheryl Schnitzer
I love the quality and styling of this garment. The fabric pattern is rich in color and the cut is flattering. The detail embroidery is effective and beautiful. Classic Market Place India!
---
Beautiful Details
Sep 8, 2021 | By Lisa Songster
The print of the fabric is really lovely and the embroidery details on the bodice and the cuffs are gorgeous. I can't wait for a special occasion to wear it!

---
Beautiful Geethali dress!
Sep 10, 2021 | By Janette Fischer
This dress is lovely--I feel lovely in it. It is comfortable and cool, and elegant in a relaxed way. I've been wearing it whenever I can. Oh, and it has terrific deep pockets!
---
Love the Dress
Sep 16, 2021 | By Sharon M Dodge
I just love this dress. It fits perfect. The colors and the embroidery details are very beautiful. I got the dress on Labor Day in the afternoon. The artist did a beautiful job on the dress.
---
Terrific dress!
Sep 24, 2021 | By Lorraine Jacobs
The pockets! They are substantial and I really love pockets. I ordered a small. It is loose fitting on me and perhaps a little too big. I'm 5'7", 135lbs but it still looks great and I love it! The fabric is comfortable and the embroidery lovely.
---
Beautiful and fantastic handwork
Sep 30, 2021 | By Linda Pristera
Such beautiful spirit sewn into this dress. It is lovely in all ways - beautiful handiwork and wonderful fabric. Love it! Thank you for your personal touches.
---
My first Marketplace India purchase
Oct 4, 2021 | By Barbara Luhn
This dress is my first purchase with Marketplace India. I am beyond delighted. The dress is beautiful, and I am thrilled with the quality of the fabric, the embroidery, the seam finishing - everything!!! The size M is just right for me. Oh - and I LOVE the pockets! I'll be ordering from MI again, and I love that purchases support these women artisans.
---
Love it!
Oct 21, 2021 | By Ellen
I love this dress. The design and the quality of the fabric is wonderful. The dress is lovely, comfortable and has great pockets. The workmanship is excellent. This is my first purchase from MarketPlace India, but it will be the first of many, I am sure.
---
This dress is the best!
Dec 24, 2021 | By Freddie Ann Ettel
I love my new dress. Beautiful colors, all cotton, no ironing and a great desighn. I get many compliments on it. Anytime I need to call Marketplace they are so gracious and helpful.
---