Sahara Collective Define Their Brand
Sahara is one of the oldest groups and consists of 10 tailors, 18 embroidery artisans, 2 cutters and one supervisor. It is particularly significant that one of the words they used to describe themselves is "unity." This is a mixed group of Hindu and Muslim artisans, but instead of this being a source of conflict they make it a source of celebration. The bonds between the members are strong, as they celebrate one another's different holidays, go on picnics together, and assist one another. They also take an interest in their greater community, participating and initiating social programs and community development. They chose these four words to capture their identity:

1.Support Each Other
2.Quality
3.Unity
4.Acceptance For All Work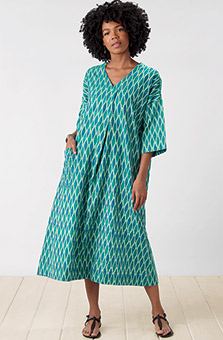 Chaaya Kaftan - Emerald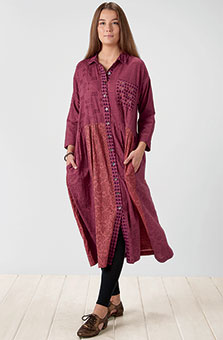 Manisha Dress - Plum
$110.00–$116.00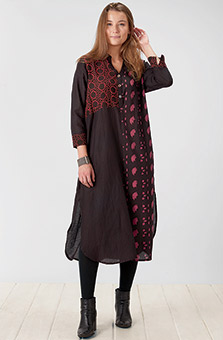 Aditi Long Shirt - Black/Multi
$124.00–$130.00
Write a review
---
Jamini Dress
Nov 10, 2021 | By Jane H
I think this is perfect for fall in warmer climates--it's lightweight but substantial enough. Probably it helps to be tall; if you are short or tall and very thin, you might want to size down. But the detailing and slight gathering on the front bodice keep the dress from seeming like too much fabric.
---
Disappointing
Jan 10, 2022 | By Robin
I've had great success with previous purchases and was looking forward to wearing this beautiful dress -- but even size small floats on me like a tent (and I'm not a petite person).
---
Gorgeous dress!
Mar 1, 2022 | By Freddie Ettel
As usual, this is an outstanding dress! I have purchased over the years many Marketplace of India dresses. I love love love love them! Thank you for always having amazing dresses. Your very high quality, designs and craftmanship are supreme!
---