Independent Thinkers
Reading a newspaper was simply not part of the artisans' lives. Many of the women cannot read or write and they have little free time. Now, thanks to the cooperatives' weekly newspaper discussion groups, the women have become enthusiastic consumers of all types of news. The articles, chosen by an artisan on a rotating basis, are read aloud and then discussed, giving the women the opportunity to learn, share, be inspired, and, sometimes, laugh. Each group keeps a record of the articles for reference.
Sohan Handwoven Jacket - Natural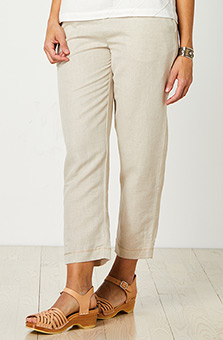 Kavya Pant - Flax
$74.00–$78.00
Tijara Tunic - Sand
$92.00–$96.00
CUSTOMER REVIEWS





Goes with everything
Jun 8, 2021
By Rochelle Gatlin
I usually avoid this light, bland color, but it will go with everything, especially my more colorful MarketPlace outfits. Well-fitting and classy.





Beautifully made, but super oversized
Aug 13, 2020
By Jeanne
I was flattered that a 2x could go around me once and a half time more, since this isn't usually the case. I'm returning, not exchanging, this exquisitely made jacket, because here in the Northeast, it's either hot and humid or dry and cold. Unless you spend a lot of time in an air conditioned environment, it would be hard for me to think of when I'd wear this really heavy, tightly-woven linen. Order a size smaller than usual, and you have a jacket of superb quality.





Lovely jacket!
May 6, 2020
By Kathryn Oliver-Garnett
Love this! I ordered the Large at first, having overlooked the fact that it was described as "oversized" in the description, so I was initially disappointed that it was way too big! Exchanged it for a Medium and it's great! The fabric machine washed on the "Hand Wash" cycle and hung dry really nicely! It will need touch-up ironing mostly on the collar, but the fabric and sewing are exemplary -- I've done a lot of sewing for myself in the past, and I recognize the fabrication methods used for this garment and the results speak for themselves. This is a garment I will get a LOT of use from, and it will look great in the process!





Great jacket for telecommuting
Apr 14, 2020
By Tamara Hunt
Although I'm working from home, I still have to dress professionally for online videoconferencing. This jacket is the perfect choice! I wear it over a brightly-colored crew neck shirt and it looks great. Its neutral tones allow me to wear it over all colors and with all kinds of different scarves.





Jisha Jacket review
Apr 6, 2020
By Jane Alper
a very nice looking jacket but the petite small was enormous. I returned it.