Sacrificing for Education
The artisans place a high priority on educating their children, which comes with a price tag. Even free schools require funds for books, exams and uniforms. Many of the artisans have opted to pay for private English-medium schools, a growing choice in India. Public schools are often poor-quality and use the local language, but English-speakers are given preference for jobs. Standardized tests based on rote learning are crucial in this super-competitive system, requiring the help of paid tutors.
Tulsi Jacket - Natural Garnet Multi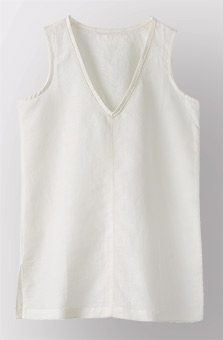 Chethana Top - Soft white
$52.00–$56.00
Sikkim Jacket - River/White
$79.00–$82.00
CUSTOMER REVIEWS





Very classy
Jan 24, 2022
By Barb
I'm honestly not going anywhere these days since I'm retired and there's a pandemic going on. But I couldn't resist this jacket especially when it went on sale and I am really looking forward to wearing it!





A fun jacket!
Nov 30, 2021
By Susan
I love this jacket! The pattern is fun, the fit is comfortable, and it is well made.





An elegant jacket
Jun 23, 2021
By Rochelle Gatlin
The material is somewhat weighty, which I like, with the most beautiful pattern and embroidery. I also like the wooden buttons. It feels elegant and distinctive when I put it on.