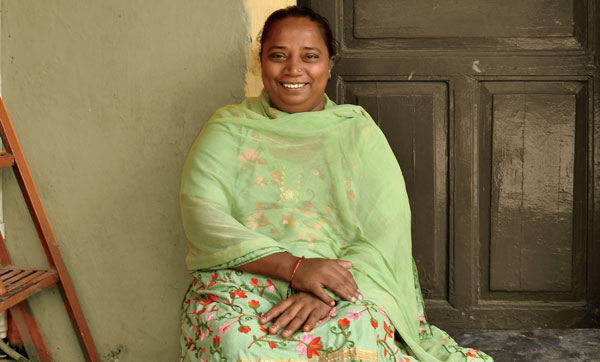 Safiya Begum Khan: Embroidery Artisan, WARE
When Safiya got married, her husband told her to give up her job at WARE. When he lost his job, however, Safiya convinced him to let her rejoin WARE. This was their lifeline when he lost his job again permanently during COVID. When other businesses were closing and laying off, MarketPlace paid all the artisans a subsidy although they could not work. "I was the only person receiving money. This changed the way he looked at me and my job." He had never understood the commitment and support she felt. She further impressed him when she argued with authorities on his behalf and convinced them not to fine her husband for unauthorized street sales. Now she feels her husband has new respect for her work and her abilities. "Things are much better than before."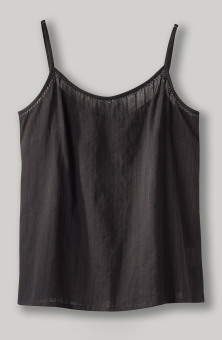 Cami - Black
$35.00–$38.00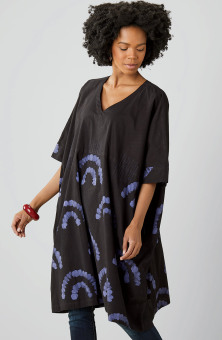 Irla Dress - Black/Celestial
$85.00
Write a review
---
Very large
Sep 24, 2022 | By Jennifer Litchfield
I ordered the small/extra small. The colors are attractive and I wish I could keep it but it is so large on me it looks like an XL. So returning.
---
Beautiful jacket
Oct 7, 2022 | By Donella J Novak
I just received this lovely and beautifully made jacket. I bought the small but generally wear a medium but this jacket has plenty of room even with something bulky under it.
I would definitely buy something else at Marketplace. The added embroidery is a plus!
---
Kanchi Jacket
Nov 14, 2022 | By Nancy TenBroeck
I am tall and have long legs. This jacket, worn with black trousers and a white or natural (or perhaps an emerald green) tee shirt or turtleneck, is a dramatic but simple outfit that is becoming and goes anywhere. I love it.
---
Emerald/Lavendar Kanchi cotton jacket XS/S
Jan 25, 2023 | By Rita Bianchi
Attractive, light-weight, loose fit jacket works well over black slacks or a skirt. Modern, casual look. Flattering, mid-thigh length. Nice to have pockets.
---
Return customer, never disappointed
Feb 12, 2023 | By Liz
As with my other purchases from Marketplace, this jacket is stylish, pretty, well made, and comfortable. It's all about comfort at my age and it's a bonus when clothes make me look great, too.
---
Kanchi Jacket
May 22, 2023 | By Victoria ziemer
I love this jacket. It is very lightweight, so I can wear it year around as another layer. The colors are vibrant and the embroidery is beautiful. And the best thing. It has pockets.
---