COVID Helped Us Reinvent:
The constraints and restrictions of the pandemic compelled us to find new ways to achieve our goals. Through meetings and actions the women worked together to march, protest and educate the public. They opposed corrupt officials and negligent garbage collection, and they attended training sessions on women's rights and health. But these were all in–person meetings and actions. We had to reinvent our strategy. Google Meet came to the rescue! The women, with limited or no computer experience, learned to use cell phones to attend virtual meetings, speak in turn – and mute/unmute.
Avni Top - Nasturtium Multi
Shifa Tank - Bright teal
$56.00–$59.00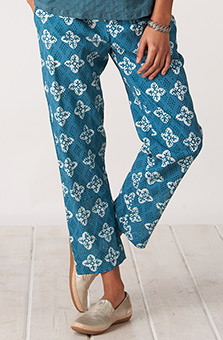 Kavya Pant - Capri teal
$69.00–$72.00
CUSTOMER REVIEWS





GREAT NEW PANTS !
Jun 15, 2021
By esther
I love these pants - the colors are vibrant - the fabric is light weight - easy wear - easy wash and care ! Perfect summer wear !





Kavya Pant
Jan 26, 2021
By Karin L Nadeau
These pants fit exactly to size. They are a nice, light cotton that I can wear even in the summer. It's very hard to find cotton pants of good quality so I'm very pleased with these. I frankly can't usually afford the regular prices that MarketPlace has, but since these pants were on sale, they were an excellent buy for me.





Runs small
Aug 23, 2020
By Angela
Some pants from Marketplace run big and some run small. These are definitely too snug. Going back for a L. Lovely fabric, beautiful print.





Lightweight and fun for warm days
Aug 8, 2020
By Traci
I was happy with the handcrafted quality, length, fit and lightweight feel. And the print is fun! I wear w/ a white top.





perfect for summer
Jun 10, 2020
By Virginia Lipke
bright and festive light weight pants are perfect for summer.