Sacrificing for Education
The artisans place a high priority on educating their children, which comes with a price tag. Even free schools require funds for books, exams and uniforms. Many of the artisans have opted to pay for private English-medium schools, a growing choice in India. Public schools are often poor-quality and use the local language, but English-speakers are given preference for jobs. Standardized tests based on rote learning are crucial in this super-competitive system, requiring the help of paid tutors.
Usha Jacket - Wheat/Indigo
$84.00–$89.00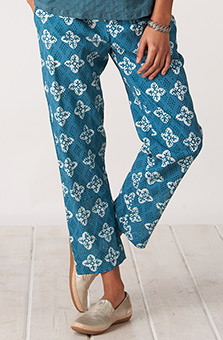 Kavya Pant - Capri teal
$69.00–$72.00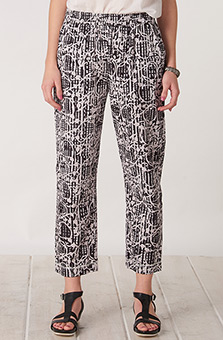 Kavya Pant - Black/White
$69.00–$72.00
CUSTOMER REVIEWS





Cotton linen pants
Aug 5, 2021
By Anne-Marie Kotschwar
Very nice material, and a beautiful color. The fit is not perfect, and the material is a bit heavier than I expected.





Great Fitting Pants
May 19, 2021
By Maureen Huff
Love these. Fit well and on me are ankle length. As always, quality is excellent.





Great product but
May 17, 2021
By Cheryl
I love the fabric and workmanship. However, when I order pants to fit me I must alter the waist. I'm at the age when body weight has redistributed to the point that I no longer have a waist. I have to take the waist band apart and put more forgiving elastic in place.