Design In A New Light:
At an organizational level we have had to redesign many systems, procedures and structures to accommodate new realities. For example, our designer Adele Mattern could not make her usual trips to India to work with the women at the embroidery workshops and finalize the lines. Instead we changed to replace in–person meetings with more Zoom calls, WhatsApp messages and by sending tons of photographs and samples back and forth. It was a cumbersome process, but it worked more smoothly with time and experience.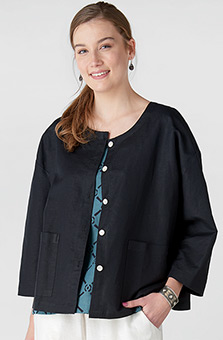 Dharika Top - Black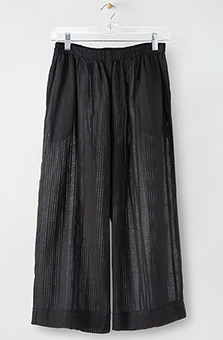 Voile Culottes - Black
$39.00–$42.00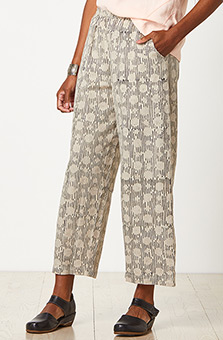 Kesari Pant - Flax/Black
CUSTOMER REVIEWS





My go-to summer pants
Mar 27, 2021
By Alex Nova
Maybe my third pair of these fabulous lightweight pants. Comfortable, stylish, always cool in summer heat. The subtle embroidery is a nice touch that doesn't overwhelm.





Good buy
Jul 29, 2019
By Michelle
This was a good buy; pants fit well, fabric is pleasingly lightweight, good quality, embroidery is a special touch.





Cool and comfortable
Jul 18, 2019
By DB
Great choice for warm days. I own five of these pants in different colors.





My Go-To Pants
Jul 11, 2018
By Julie VH
"Kesari" are the best for me in any color/print! 1W fit is consistent and reliably cute as ankle pants in warm seasons (NE USA). How about a soft corduroy model for cooler weather in dark neutral colors; same delicate embroidered contrasting embellishment? I'd buy.





Comfy and cool!
Jun 6, 2018
By Marcia
As I wear a size 12 pant, I thought the large would work but they swallowed me. Medium is perfect for me; I altered the length to 22" and also added a pop of bright blue to the pocket's embroidery. thanks!





Love these pants
Jun 5, 2018
By Aimee
Light, airy and perfect for summer!





Ridiculously comfortable
May 24, 2018
By Gerilyn Bender
The fit is exactly right. The material is light and breathable. Please make them in more colors.





Great pants
Apr 27, 2018
By D. B. Joyce
These pants are flattering, comfortable and they wash well. Love the material. I will wear these often.





: D
Feb 5, 2018
By Teresa
I've got them on right now. Perfect summer weight-- BUT so easy to layer under for winter, too. The ideal pants for a minimalist! Just note, they are a tiny bit shorter than I expected (and, I wear petites.)