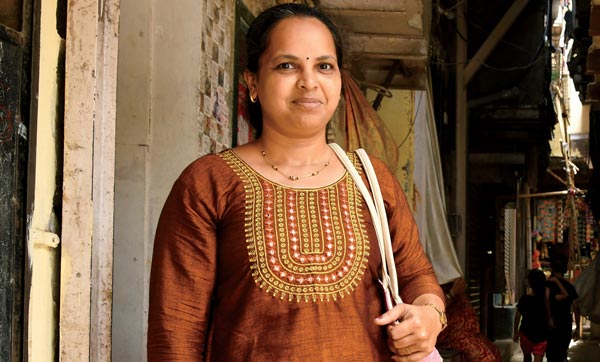 Uma Sanjeev Vartha: Supervisor and Embroidery Artisan, Ranphul Mahila Mandal
Uma had many challenges in her life. After her father, brother and husband died she was left on her own caring for 2 children, her paralyzed mother, and her widowed mother–in–law. With little education, she had trouble finding work to support everyone. When she joined Ranphul Mahila Mandal she discovered a place where women are valued for their dedication and ambition. Uma was more than willing to take on the responsibility of making a new group succeed. In fact, she showed a natural ability to lead, and trained as a supervisor. She has been able to handle disputes, finances, and priorities. To manage the travel her job requires, she saved up for a down payment on a scooter. Of course, only after carefully calculating that she could handle the payments.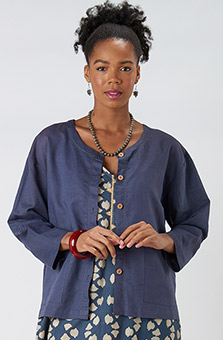 Dharika Top - Slate blue
$78.00–$82.00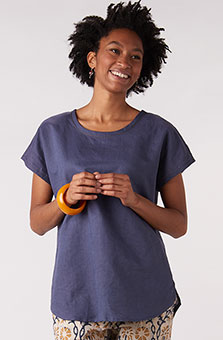 Bimala Top - Slate blue
$62.00–$65.00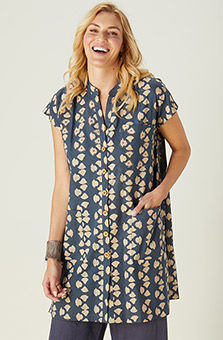 Manjula Tunic - Slate blue
$84.00–$88.00
Write a review
---
Order a size larger
May 11, 2022 | By Sandy S
I suspected these would need to be ordered a size larger than I normally wear and yes, I was right. The cut is roomy but with the size larger I don't have "crotch" binding, nor do they ride down when you sit or are working. The drawstring waist allows a custom fit. I love the fabric- lightweight yet not "exposing". I find I roll the pant leg since the length looks neither short nor long enough so I make it what I like and that works- and looks intentional.
---
Perfect Summer Pants
May 30, 2022 | By K rain Goorchenko
These fine linen pants are well made, loose and cool for the upcoming hot weather. There is some nice embroidery on the roomy cargo pocket.
---