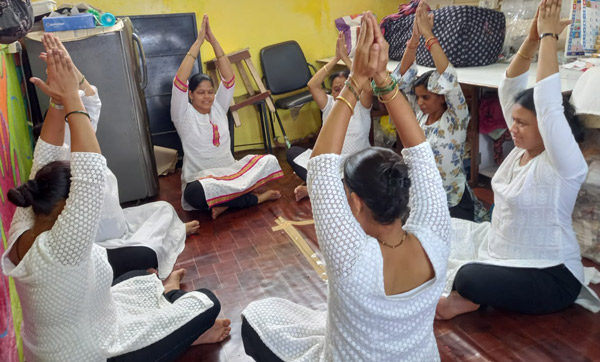 Celebrating International Yoga Day
Yoga classes came into being in 2018 when the women wanted to improve their health and reduce stress. At first there were difficulties finding space, but then COVID shut down in–person meetings and the classes went online. Many of the artisans still practice Yoga daily. They decided to celebrate International Yoga Day as a group by dressing alike: black and white yoga clothes. Many of them had never worn pants before, and the consensus was pants and a T-shirt are much more comfortable than a saree for doing yoga!
Shifa Tank - Bright teal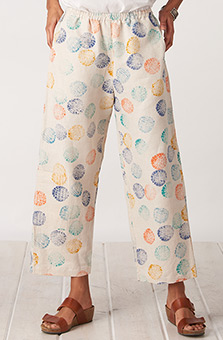 Kesari Pant - Flax/Multi
$88.00–$92.00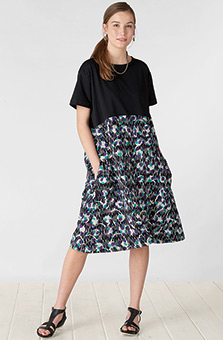 Najma Dress - Black/Multi
Write a review
---
Great Style abd Colors!!
Jan 3, 2022 | By Susan Kepner
These would be perfect if they were longer, but will enjoy the colorful print, great work-womanship and good fit and of course the cotton fabric.
---
Ellie's mom
Feb 25, 2022 | By Rhea
Over the past 5 years I've purchased 10 pair of Kesari pants in a variety of colors and fabrics. Three of the 10 are prints, and each is nicer and more colorful than the next. I'm pleased with every pair of Kesari pants in my closet and receive compliments wherever I go. The workmanship is excellent, embroidery is lovely, sizing is consistent, and the styling is versatile for whatever occasion. Every season I look forward to seeing what's new to add to my wardrobe.
---
Love these pants
Sep 21, 2022 | By Patricia
These are my favorite summer pants - lively pattern, light weight and cool, and the pattern doesn't show spills (or do I only spill coffee on solid color pants?)
---