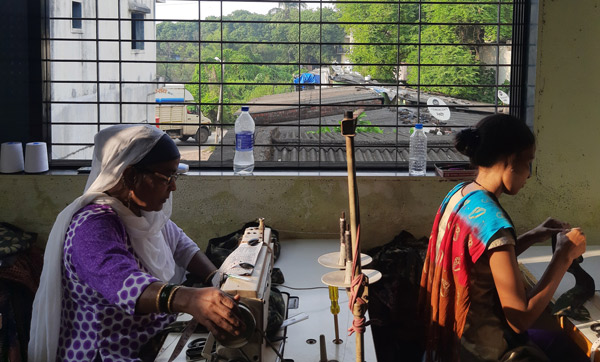 Ghar Udyog Collective Define Their Brand
Ghar Udyog is situated in Uttan, roughly 46 km from Mumbai. Located on the coast, the surrounding area is a fairly rural area and Uttan is like a large village. This group consists of 13 tailors, 14 embroidery artisans and one supervisor. It's an interesting mixture of young and older women who originate from different parts of India. While the sewing is done at Uttan, the embroidery artisans live in Bhavander, a short distance away. The geography makes it imperative that everyone can communicate clearly and frequently with their cooperative members and staff in Mumbai. They are very committed to all the social programs for personal development and social improvement. They are also good at locating useful resources in their community. They feel these aspects describe them:

1.Teamwork
2.Unity
3.Support Each Other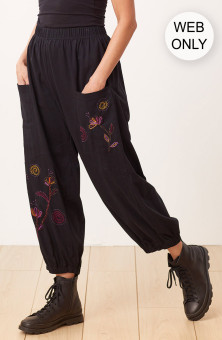 Vishram Pant - Black
$98.00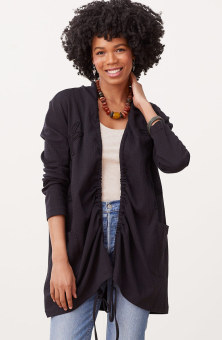 Vani Drawstring Jacket - Black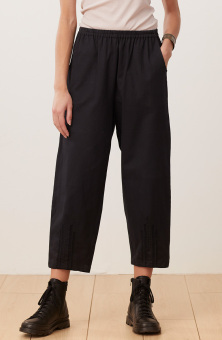 Kalpa Pant - Black
$92.00
Write a review
---
Cotton pant
Oct 29, 2022 | By Patricia Edwards
Beautifully made and very good quality. Thank you so much.
---
Kesari pants
Jan 19, 2023 | By Susan
Good fit very nice pants
---
Most wonderful pants ever!
Apr 6, 2023 | By Kimberly M GRIMES
The waffle weave of these pants is amazing. Super comfortable. Fits perfectly. I never want to take them off.
---
Love these pants
May 6, 2023 | By Betty B Hudson
These pants are a little heavier than usual summer linen pants, which I like. They're comfortable and the cotton gauze doesn't show wrinkles like linen does. I'm 5'1" , size small is the length I like - a little longer than ankle length shown in the picture. I'll wear these a lot this spring and summer. I also love supporting small businesses
---