Determined To Find A Way
When Arpit Tiwari needed access to a computer to participate in his online classes, he contacted the team at MarketPlace's Education for Life program. Although the programs were temporarily closed in the early months of the pandemic, staff members were able to accommodate this bright, hardworking and resourceful student. For 6 days a week an intern would unlock the door for Arpit and stay until he was done. Now, a year into the pandemic, although schools are still closed, the center is open full time for all the kids.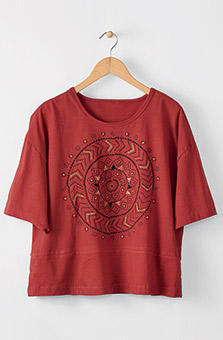 Kiara Pullover - Red
$68.00–$72.00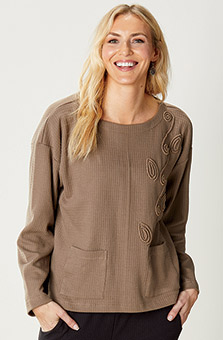 Ansiba Tee - Mushroom
$74.00–$78.00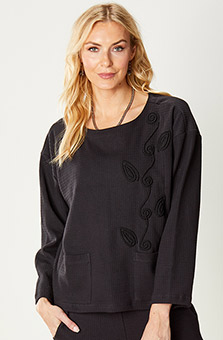 Ansiba Tee - Black
$74.00–$78.00
Write a review
---
Outstanding
Sep 7, 2021 | By Nan Borton
This is an absolutely beautiful shirt. The embroidered mandala is outstanding, and the fabric is soft and sprint-autumn weight, and washed well. I did follow instructions to ensure it is color-fast. Congratulations to the skilled artisans!
---
Cozy top
Sep 14, 2021 | By JGR
I am anxiously awaiting cooler weather so I can wear
My new Kiara pullover. Love the beautiful artwork on the front-its what drew me to this top, and did not disappoint. It is a little short for my tastes, and will show some tummy, but still love the feel, and will wear it often.
---
Striking
Sep 14, 2021 | By June Z
This very comfortable top is also a great color and fits just right. The mandala on the front adds plenty of interest and draws lots of admiring comments. Love the fabric, color, and fit.
---
Generously sized.
Oct 2, 2021 | By Patricia
It was too generously sized for the person it was ordered. for. Overall, a very well made product; the color was excellent.
---
Great shirt
Jan 11, 2022 | By Barbara Mah
It's a good color, and the design on the front is colorful! It's a bit thicker weave, so it's somewhat cuddly, that's nice sometimes. I'm always pleased with the quality of the workmanship on items I get from Marketplace; they are always well-sewn, and the little embroidery pieces on each piece of clothing add a nice touch!
---
Beautiful Handwork
Feb 8, 2022 | By Gayle Hays
The color is wonderful and the fit is perfect. I have shopped here before and always loved the cuts and craftsmanship. The quality is predictable for me since I'm a return customer. I recommend you shop their offerings and find the style that works well for you.
---