Learning without Schools
Artisan leaders and staff social workers are supervising the children as they try to continue their school work at home. They keep in touch by phone and distribute worksheets and assignments. It is a huge challenge for the students to concentrate at home, since the tiny space can be crowded with 5 to 8 people. The parents, especially those who do not know how to read or write, depend on this support to keep their children on track. While not a perfect substitute for schools, this is keeping the children engaged and learning. Click here to learn more.
Saanya Tunic - Black
Ashima Tunic - Navy
$76.00–$79.00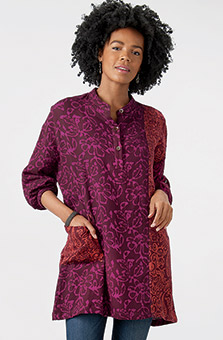 Kimaya Shirt - Dark orchid/Multi
$92.00–$96.00
CUSTOMER REVIEWS





outstanding colors!
Sep 22, 2021
By susan Carole gold
I have bought many items from this store. I have been pleased with everyone of them. They are well made, fabrics are colorful and beautiful. The only concern I had was about the size. The clothing runs large, so order a smaller size. I think the prices are reasonable, based on the good quality of the clothing pieces.





Love this shirt
Jul 26, 2021
By Deborah Crabbe
I love this shirt, love the color the style and the comfort. I love every shirt I have gotten from MarketPlace, the quality work. and the beautiful fabric. I have gotten many shirts and other clothes from Marketplace and am never disappointed.





luv the purple!
Jan 13, 2021
By bee
i have three of these shirts - prefer the oversized fit. the older i get, the bigger i get! great new color and wonderful print - beautiful work - many thanks marketplace artisans!





Exquisite
Jan 9, 2021
By Paula Carter
The shirt is exquisite - the detailing is beautiful. I bought to wear to the Metropolitan opera for when it finally opens up again!