Reaffirming The Commitment To Work:
Seeing how the women responded to all the challenges of COVID restrictions with energy and a can–do spirit showed us how impactful our empowerment programs have been. It reinforced our belief that when women are exposed to resources and new ideas, they can take charge and make changes. The women have been determined to work and have come up with very creative ways to get to their workshops and to obtain supplies even when stores were closed.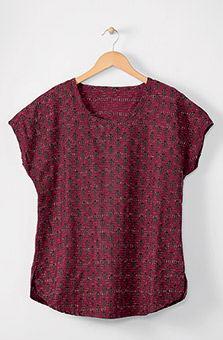 Bimala Top - Port
$72.00–$76.00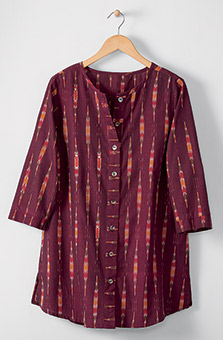 Sanoli Tunic - Port/Multi
$82.00–$86.00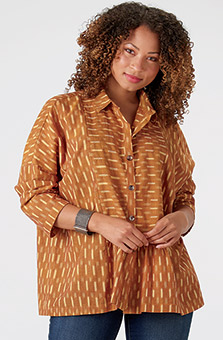 Jamini Shirt - Pumpkin
$74.00–$78.00
CUSTOMER REVIEWS





Great Design, Pattern, and Fit!
Nov 8, 2021
By Sandra Gelinas
I've ordered a few items from MarketPlace India and been happy with them. I love this top because it fits me well (I'm between a XL and 1W and I wanted it to be loose), and it's comfortable to wear all day. I washed it and didn't need to iron at all - just hung up to dry. I wear it with black leggings. The top is just the right length. I know I look stylish while I'm being comfy. I'm giving 4 instead of 5 stars because on the back of the collar, it was unstitched for two inches where the label was added. I can comoplete the stitching myself by hand, so not a big deal.





Love the fabric and design
Sep 20, 2021
By Rochelle Gatlin
The texture of the fabric feels wonderful and the design and color of it are beautiful. Deep and rich looking and feeling.