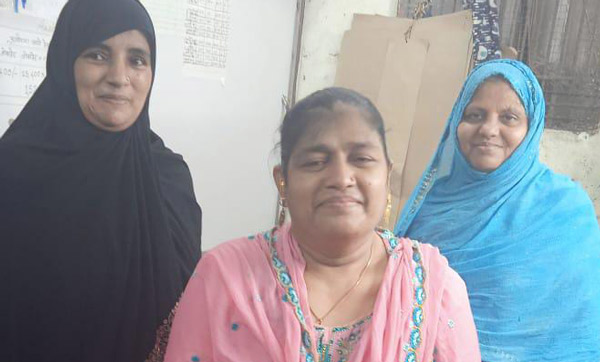 Aashiyana Cooperative Define Their Brand
Aashiyana was started in 1995, when a group of mothers in the Tulsi Wadi slum wanted to earn a living. It consists of 6 tailors, 8 embroidery artisans, a supervisor–tailor and a manager. Their group truly embodies "perseverance" as they have succeeded despite disadvantages. Their neighborhood is very poor, with serious crime and drug problems. It is also the location of many communal clashes between the Hindu and Muslim residents. Amidst all this, Aashiyana is able to operate out of a tiny workshop. They chose these qualities to describe their identity:

1.Respect
2.Unity
3.Helping each other
4.Perseverance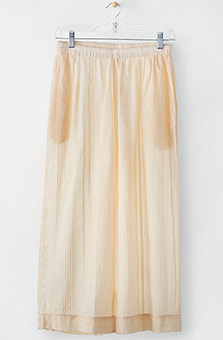 Voile Culottes - Natural
$52.00–$56.00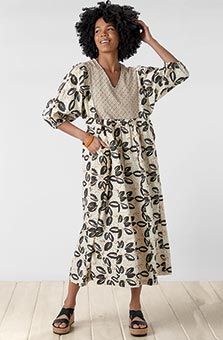 Adrika Organic Dress - Black/Natural
$172.00–$176.00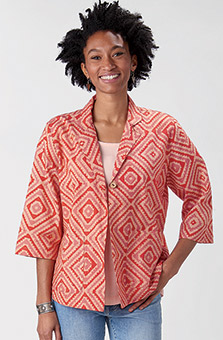 Short Ritu Jacket - Coral
Write a review
---
Pretty and Fresh
May 25, 2022 | By Katherine Boyd
I'm wearing this dress as a caftan since I rarely wear dresses. It's very pretty, very comfortable, roomy, and I love the bright colors and the embroidery around the neck and sleeves. It's also perfect for summer. Thank you to the ladies at MarketPlaceIndia!
---
Lovely color
May 30, 2022 | By Arleen Weinstock
The dress is very flattering because of the cut and color.
---
Simply Love It!
Jun 2, 2022 | By Kim Harris
I can't say enough positive things about this "dress". I use the quotes, as I wear it as a long tunic, not a dress. It is bright and vibrant without being over bearing, comfortable to wear and the beading gives a nice polished look. I appreciate that the 4W left me with ample room to wear a long sleeve tee underneath. I can see myself wearing it with a turtleneck in the cooler months.
---
Just Perfect
Nov 16, 2022 | By Carol C Lee
Love the color and the fit.
---
This beautiful dress
Jun 1, 2023 | By Anna
I'm so glad I bought this dress. The three different colors combined are so warm and eye catching that I always turn heads, compliments every single time I wear this dress. The pockets are deep and the pattern is perfect. This can easily go from day to night with just a change of shoes and bangles. The embroidery work is excellent with the colors blended into the fabric as if it was dyed to match the mauve through out the dress. This is a perfect example of the quality of the craftsmanship of every individual piece made from Handwork of India. Thank you for your time and dedication. Namasta
---