Mehak Parmar Interviews Her Grandmother Sitaben Parmar
During the summer of 2021, the children of the artisans were asked talk to their grandparent to learn how things had changed. "My grandmother mentioned that in their time less importance was given to education, especially for girls. The best thing I found is that she really likes spending time with me and taking care of me. I am very close to my grandmother but I didn't know that she also really liked spending time with me."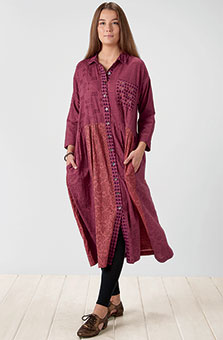 Manisha Dress - Plum
$110.00–$116.00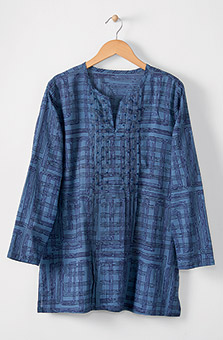 Saanya Tunic - Bright navy
$72.00–$75.00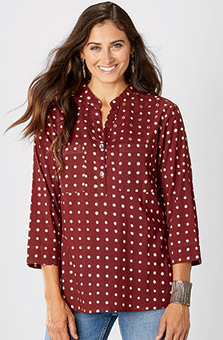 Chinam Shirt - Dark Redwood
$72.00–$76.00
CUSTOMER REVIEWS





Beautiful Color and Print
Nov 8, 2021
By Sandra Gelinas
I bought this because I loved the soft color and the block printing. The embroidery details are always a special touch in each piece. I washed it and was very pleased to see no need to iron! It looks great with jeans or leggings and is a very versatile top. Thank you to all who helped make this garment so I can have something special to wear!





Plum shirt
Oct 25, 2021
By Connie R Burkholder
The item fits perfectly with no adjustments needed. I love it!