Learning Through Theater
Confidence, communication, critical thinking and discipline! These are the qualities the artisans felt were most important for their children to develop. With these skills, they felt, their children would be prepared for a successful future in any endeavor. To capture the children's attention, what could be better than a Theater Project? Through the medium of theater, the children hone communication and presentation skills. They learn to work as a team, write scripts and analyze meaning. It's all fun and lively, but the life lessons are dramatic.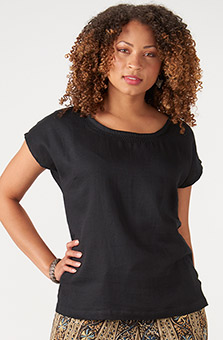 Tivisha Top - Black
$52.00–$56.00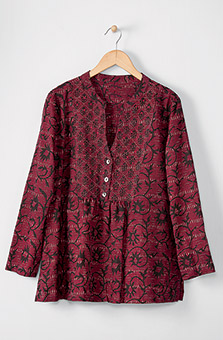 Kriti Top - Port
$88.00–$92.00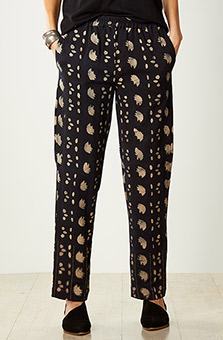 Kavya Pant - Black
$79.00–$82.00
Write a review
---
WASH CAREFULLY
Sep 15, 2021 | By Meagan Watts
When this tunic first arrived I was extremely pleased with it in every way. It fit beautifully, draped beautifully, it was awesome. But unlike EVERY other thing that I have ever purchased from Marketplace Handwoven of India, this one did NOT do well on the lowest setting in my dryer. It shrank 3 inches in length, and the arms shrank so that now it's too tight across the shoulders and around the arms, and I'm going to have to alter it before I can wear it. The label does say line dry, but my basement is damp, and line drying leaves things musty and sometimes causes mildew, and I don't have another good place to line dry. This is still a beautiful tunic, it's still drapes in a lovely way, but it doesn't fit at all anymore, and may not drape right after alterations. Be very careful!
---
Perfect top!
Nov 30, 2021 | By Susan
Comfortable and classy looking! High quality fabric and construction. Great for work, going out in the evening, or running errands.
---