Sacrificing for Education
The artisans place a high priority on educating their children, which comes with a price tag. Even free schools require funds for books, exams and uniforms. Many of the artisans have opted to pay for private English-medium schools, a growing choice in India. Public schools are often poor-quality and use the local language, but English-speakers are given preference for jobs. Standardized tests based on rote learning are crucial in this super-competitive system, requiring the help of paid tutors.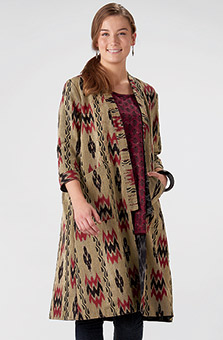 Reversible Ranvita Jacket - Almond/Black
$168.00–$176.00
Tijara Tunic - Sand
$92.00–$96.00
Anisha Dress - Indigo
CUSTOMER REVIEWS





Love it but it runs very large
Dec 1, 2021
By Sara
I love Marketplace clothing and have a number of items. Before I ordered this I doublechecked my other items and they were all Large and fit fine. So I ordered Large on this sale item. It's too big to keep so I'm returning it. Unfortunately, the smaller size is no longer available. It is, like all Marketplace items, beautifully made so I am disappointed.





Terrific
Nov 27, 2021
By Toby Spitz
perfect summer dress for casual wear. it runs large so I sized down and it's perfect. it covers my middle age arms, which is an extra benefit.