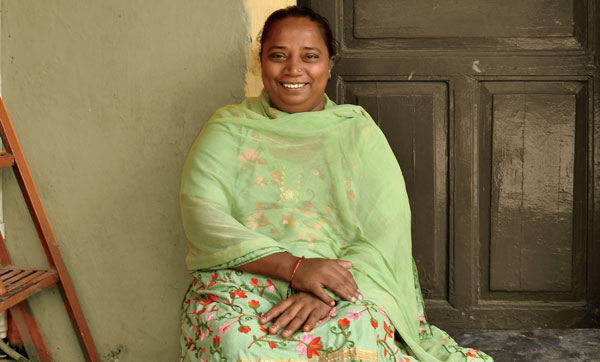 Safiya Begum Khan: Embroidery Artisan, WARE
When Safiya got married, her husband told her to give up her job at WARE. When he lost his job, however, Safiya convinced him to let her rejoin WARE. This was their lifeline when he lost his job again permanently during COVID. When other businesses were closing and laying off, MarketPlace paid all the artisans a subsidy although they could not work. "I was the only person receiving money. This changed the way he looked at me and my job." He had never understood the commitment and support she felt. She further impressed him when she argued with authorities on his behalf and convinced them not to fine her husband for unauthorized street sales. Now she feels her husband has new respect for her work and her abilities. "Things are much better than before."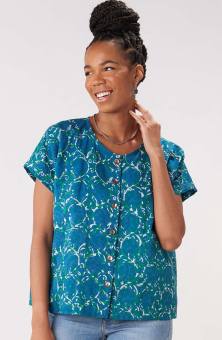 Bela Top - Lapis/Multi
$69.00–$72.00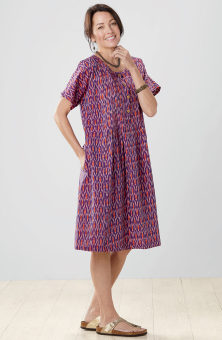 Chameli Dress - Wood violet/Multi
$104.00–$108.00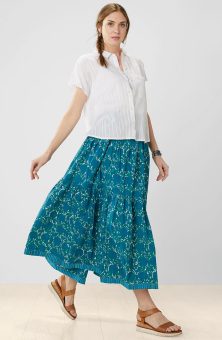 Ashiana Skirt - Lapis/Multi
$112.00–$118.00
Write a review
---
You need this for the summer.
Jun 6, 2023 | By Anne D.
Light and breezy and the color is saturated enough to avoid being transparent. A cool summer dress that doesn't need a slip? Yes please! Just loose enough to be comfy and fitted enough to flatter.
---
Lovely Summer Dress
Jul 5, 2023 | By Pomaddict
Beautiful block print cotton dress. Suitable for most any occasion . So comfortable and feminine. Love these turquoise blue & green colors together. Flattering for any skin tone and a great length for me. Perfect versatile summer dress.
---
I love everything about this dress!
Jul 14, 2023 | By Angela
The colors are fabulous, the block printing is so beautiful and intricate, the cotton is very lightweight for hot summer days, and the embroidery adds such a nice polished touch! It is perfect!
---