Working Remotely During The Pandemic
MarketPlace has many ways to maintain high quality. Normally these involve actually holding a piece and examining it. Fabric color and print are compared to sample swatches to make sure they are right. The groups make finished sample garments in all sizes and these are carefully inspected. With the lockdown, some tasks had to take place over Zoom. But colors are not accurate on monitors, and checking measurements remotely is a risky business. The staff took turns going to the office for in-person looks. To read on, visit our blog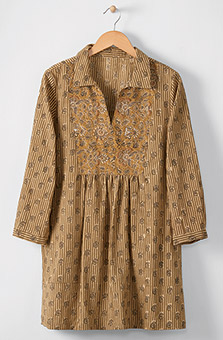 Shilpa Tunic - Olive
$82.00–$86.00
Sanika Kurta - Black Plum
$82.00–$86.00
Ashima Tunic - Navy
$76.00–$79.00
CUSTOMER REVIEWS





cool pattern
Mar 9, 2021
By Karen
True to the photos on the website. Runs large so glad I ordered a small for a more tailored look (normally I'm a medium). Long enough to be worn as a summer dress with leggings, or as a tunic with jeans. As I age I like finding pretty tops with longer sleeves for summer to give me some upper arm coverage - thanks MarketPlace!





Functional Garment
Feb 25, 2021
By Viola Lynn Wilson
I love my Lucknow Organic red indigo Kurta! The color is beautiful and fit is great! I can dress it up or wear it casually.





Happy customer
Feb 9, 2021
By Sarah
I ordered a size down from my usual MP and the fit is perfect. Flattering shape, love the colors and the button placket on front. Last summer I got into wearing loose linen and cotton pants and I can't wait to add this top to my wardrobe this year!





incredible colors!!
Jan 6, 2021
By bee
absolutely beautiful work of wearable art! bright yet muted reds and blues in a wonderfully comfortable garment that will be put to great use. thanks so much!!